Universal use sashes cover banquet chairs & seats
(16) DIY Wedding Chair Cover Rentals – Low Prices
✓ Rent for less than cost of buying
✓ Fits a wide variety of chair types
✓ Doing it yourself is easy and fun
Universal use sashes cover banquet chairs & seats
(16) DIY Wedding Chair Cover Rentals – Low Prices
✓ Rent for less than cost of buying
✓ Fits a wide variety of chair types
✓ Doing it yourself is easy and fun
Free Shipping
Orders Over $94
Fast & Easy Setup
Videos Included
Established 2003
Made in Detroit
 Why buy? Go DIY!

 
Durability

  Reusable 2x layer chair cover.

High Stretch

  Cover GSM is 190 grams.

Fit

  Crown, ghost, pyramid, folding chairs.

Quality Blend

  90% polyester, 10% elastic.

Stitching

  Stretchable & wrinkle-resistant.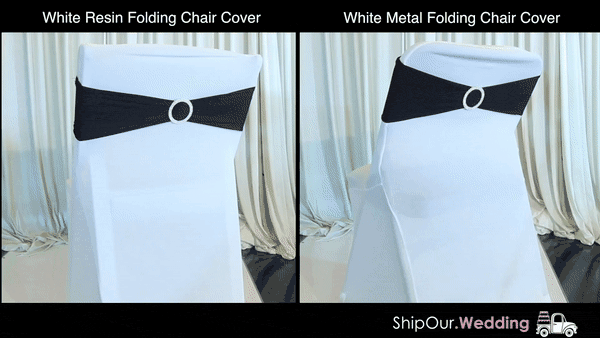 Why buy? Go DIY!

  
Durability

  Reusable 2x layer chair cover.

High Stretch

  Cover GSM is 190 grams.

Fit

  Crown, ghost, pyramid, folding chairs.

Quality Blend

  90% polyester, 10% elastic.

Stitching

  Stretchable & wrinkle-resistant.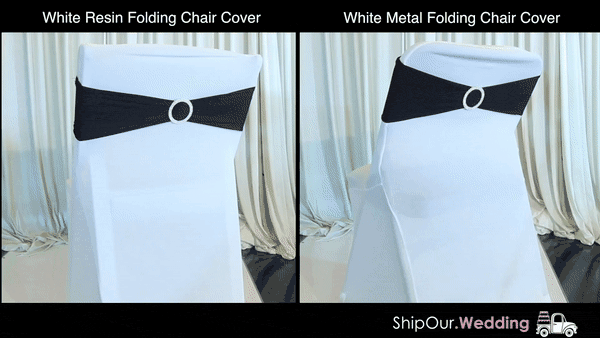 DIY Guides
discover how easy it is
What makes spandex chair covers a popular choice for weddings?
Spandex chair covers are favored for weddings due to their sleek and elegant appearance. The stretchable fabric provides a snug fit, transforming ordinary chairs into stylish pieces that complement the wedding decor.
How can I choose the right spandex chair cover color for a wedding theme?
Consider the wedding color scheme and theme. Neutral colors like white or ivory are versatile and match various themes, while bold colors can add a pop of excitement. Consult with couples to understand their preferences.
Are spandex chair covers suitable for different chair types and sizes?
Yes, spandex chair covers are highly flexible and can adapt to various chair shapes and sizes. Make sure to provide measurements and guidelines to help customers determine compatibility with their venue's chairs.
What factors should I consider when renting spandex chair covers?
Pricing should account for factors like the quantity needed, duration of the rental, and any additional services provided (e.g., setup and delivery). Ship Our Wedding offers transparent pricing to helps customers make informed decisions.
How can spandex chair cover rentals contribute to the overall ambiance of a wedding venue?
Spandex chair covers can transform the look of a venue, creating a cohesive and elegant atmosphere. They add a touch of sophistication, covering standard chairs and enhancing the overall aesthetic of the wedding space.
Can I customize spandex chair covers with embellishments or monograms?
Absolutely, customization options allow couples to personalize their wedding decor. Consider offering services to add monograms, bows, or other embellishments to spandex chair covers, creating a unique and memorable touch.
What are the benefits of using spandex chair covers over other chair cover materials?
Spandex chair covers offer a sleek and modern look, and their stretchable fabric ensures a snug fit. Unlike some traditional materials, spandex covers are less prone to wrinkles, maintaining a polished appearance throughout the event.
Are there specific care instructions for spandex chair covers during the rental period?
Use the chair covers in a clean indoor area. If outside, do not let get wet from rain or ground water. To minimize wear and tear put chair covers directly into the shipping box when removing. Do not put in a pile on the ground as the ground may be dirty after your event.
This is custom heading element
Should You Rent DIY Chair Covers?
1.)  FREE Nationwide shipping both ways on orders over $94
2.) Variety of wedding chair covers & sash colors in the USA
3.) Looks amazing, set up fast, and cheap stretchy alternative
4.)  DIY rental with tons of flexibility for chairs without arms
5.)  EASY setup tutorial videos with QR code technology
6.)  Events save more with lighting kits & the drapery kits
How Does Ship Work?
🖥 Find both normal & folding chair cover rentals above
🗓 Check availability, 25% retainer reserves your date
💳 30 days before your event the remaining 75% is due in full
🇺🇸 Ships FREE nationwide both ways on orders over $94
📆 Ground shipping orders arrive 2-days before the event
📦 Receive order & open the case, it has everything you need
🎉 Setup party yourself, love your chair covers & sashes!
📦 Ship back rentals & packing foam using the return label
Where to Rent Cheap Chair Covers
Our lycra chair covers are made for seats. They are used for wedding receptions, events, & parties. They are universal chair covers meaning they will fit more than one style of chair. You can buy chair covers online from wholesale companies, hire a vendor, or do the party yourself for cheap. Let's cover more about how you can save money and get a beautiful look with affordable rentals.
If you have ugly chairs don't rent expensive chairs, cover them! Instead of cloth linen chair covers, rent do-it-yourself white spandex chair covers & black spandex chair covers. Use these on banqueting chairs (banquet chairs) & folding chairs. Cover your seats, cover legs & also the back of the chair. Just slip the covers over your metal folding or ballroom chairs.
Accent your reception using different types of sash colors on DIY chair covers. The sash is a bow tie back & makes it a 2 piece chair cover. Our elastic stretch chair covers are fancy, formal, VIP, & luxurious! You could buy Walmart chair covers or Target chair covers, or rent them online as an easy do-it-yourself rental. Our affordable kits arrive 2-7 days before the event date. Hire our chair covers for your wedding & create an elegant party look today.