Now it's time to consider your guests. They will experience all the emotions & fun of your wedding reception. This is the secret sauce that makes planning your wedding exciting!
Read our guide & learn how to secretly impress your wedding guests
Well, you are in the right place because we hold the keys to an unforgettable special event! Below you will find the best ideas to tailor your guest experience. Transform it from traditional to truly extraordinary.
✔️ Your big day itself is a reflection of you and your partner. So let's dive in & cover some of the topics that are super important to guests.
Average Read Time: 5 minutes
How to Plan a Wedding Your Guests Love:
At first glance, this may seem like something you'd enjoy more but we can assure you that this is mutual. As soon as your guests learn the happy news about you being engaged, they will want to shower you with love and gifts.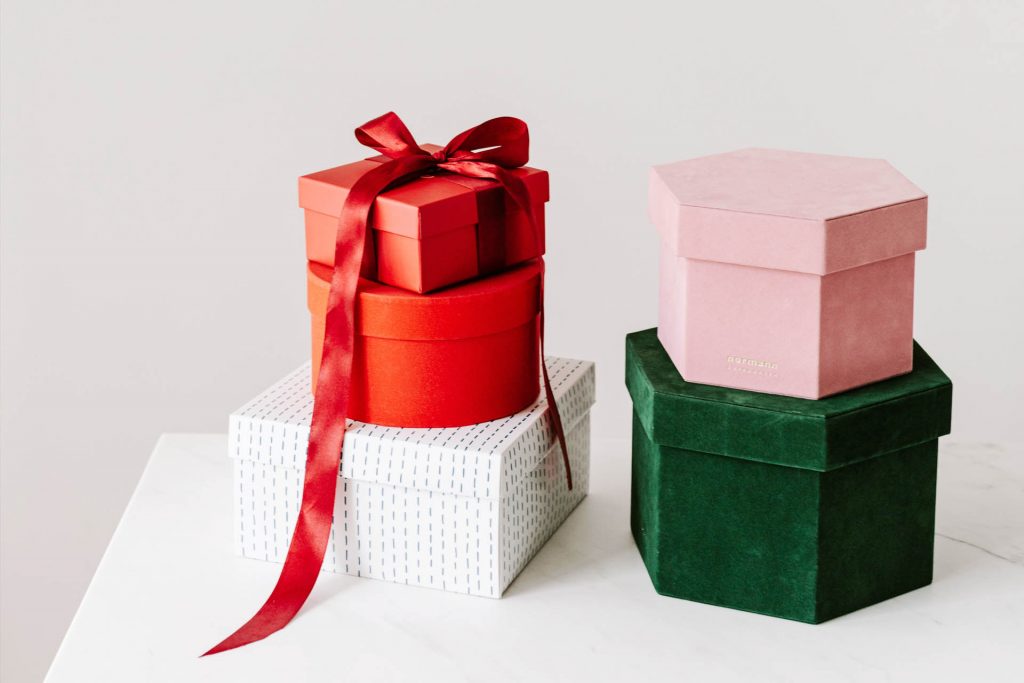 letting guests know what you prefer for gifts puts minds at ease
This saves them a lot of time that they would otherwise spend brainstorming. You can opt for a wedding website and put all the important information there along with your gift registry. This is also great because it reduces the chances of someone gifting you the same item twice.
Nothing pampers guests more than receiving welcome bags. This is especially vital if they are coming from another city, state, or country.
No one would object to a goodie bag filled with helpful things. But here's where it gets interesting, you can include many personalized items and useful ones.
include sunglasses, a fan, and sunscreen when hosting outdoor summer weddings
If your guests are coming from out of town, a map, a recommendation of local places to visit, and a few restaurant hotspot suggestions will go a long way. Get creative with personalizing the labels of the items by including a custom wedding name monogram on your stationery!
As long as we are on the same page for gifting items, then food favors are also a big hit. You can be sure that no guest will turn this down or leave it behind.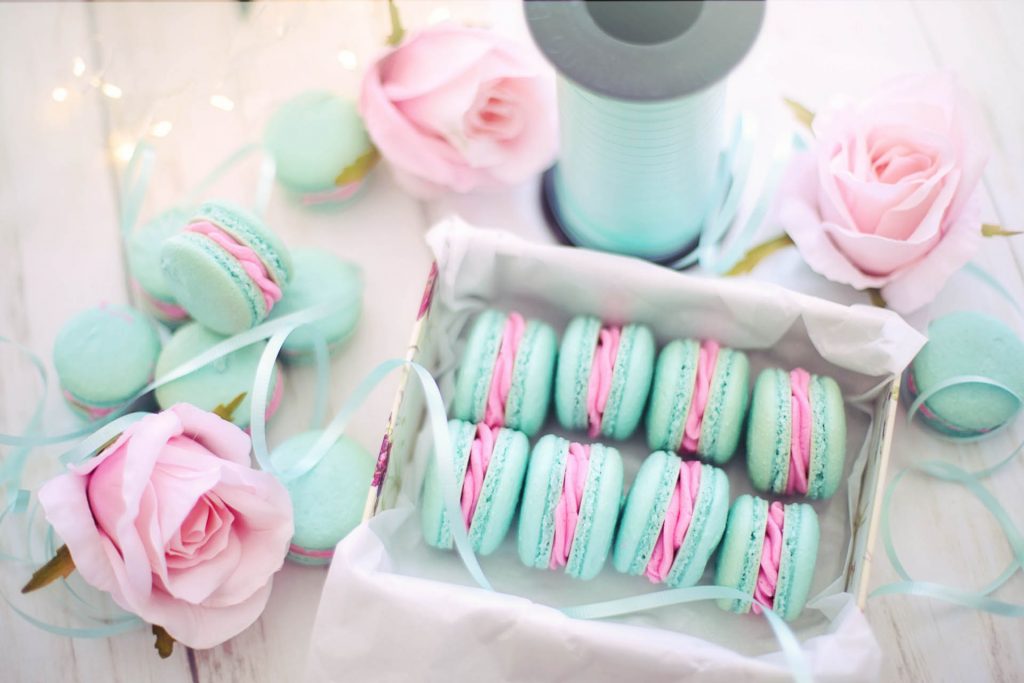 If you are doing edible favors then be sure to leave some bags in case your guests would like to grab extra. Wrap them with a personalized touch like adding a small tag or custom label on them.
have loved ones create your family's favorite treat as a favor
Small pots of honey, dessert treats like donuts, candy, and mini pies are just some of the amazing ideas that you can include. Bonus, try to have your flavorful favors match your wedding theme or season.
In addition to a unique venue location, guests look TLC. Make your guests super happy by having these two things sorted before they arrive.
For your out-of-town guests, book accommodations in the same block because this can often result in big discounts. Furthermore, by reserving the rooms in advance, you will give them a sense of being cared for.
planning shuttles & hotels removes a pain for out of town guests
Additionally, take care of their shuttle service. You wouldn't want them feeling anxious worrying over finding an Uber. This might cause guests to be late for your wedding ceremony.
Want to Save Money?
Talk to a party pro now!
We suggest offering your guests (2) meal choices. Giving them options will make them feel appreciated. This also depends on their lifestyle.
For example, are some of your guests' vegetarians or vegans? Then give an alternative that won't contain meat, dairy, or any animal-related food. Consider making a delicious creative salad.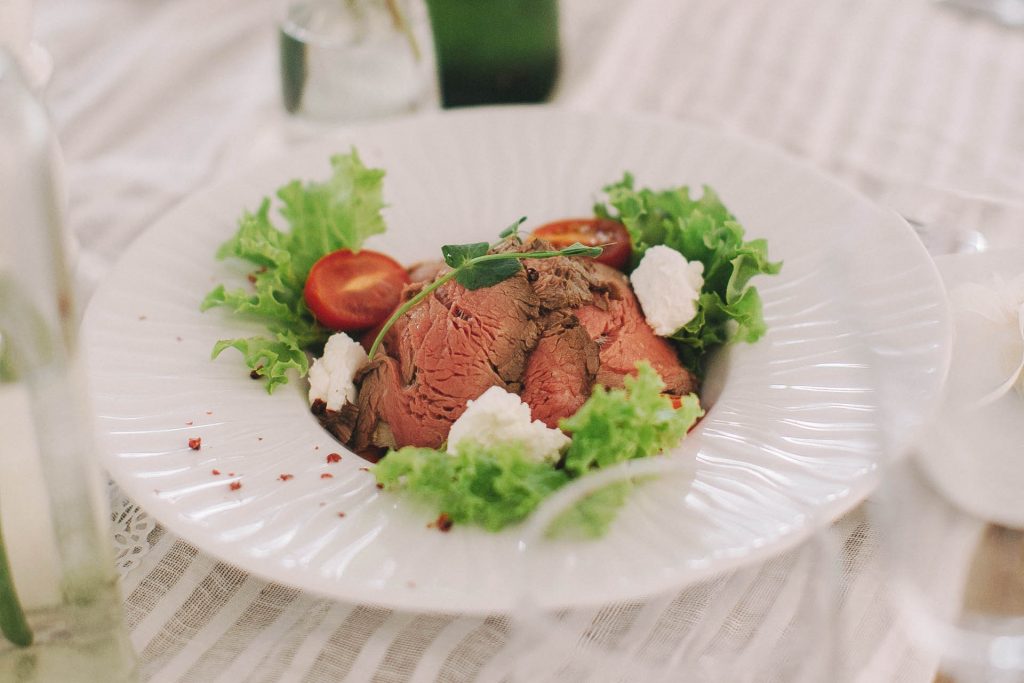 Having a traditional dish is a great idea for multicultural weddings
Trust us, they will feel honored that you have thought of them. This will be a chance for some of the guests to try something new while still having a safe backup choice for something familiar.
If we are being realistic, having an open bar will keep the party going. This will serve as a pick-me-up between the songs. Plus, you will see some incredible dance moves!
If not, you can have a cash bar where the guests pay a small amount like $2 per drink and you will cover the rest. Besides having all top-shelf drinks you may opt for beer and wine. This is a low-cost option that still gives your guest some flexibility.
one of the top (3) things you can have at your wedding is an open bar
Kick your bar up a notch with signature drinks. Put your favorite drinks on the menu and give them funny names that reflect who you are.
Signature drinks allow your guests to get to better know you. This will also be a great conversation starter at your event.
There are so many possibilities to level up your reception and provide amusement for all ages. That being said, you need to think about renting a photo booth! You can never go wrong with this one because everyone wants to have fun taking pictures with various props.
Even the senior generation will feel compelled to have a go. Your photo booth scrapbook can even double as your guest book.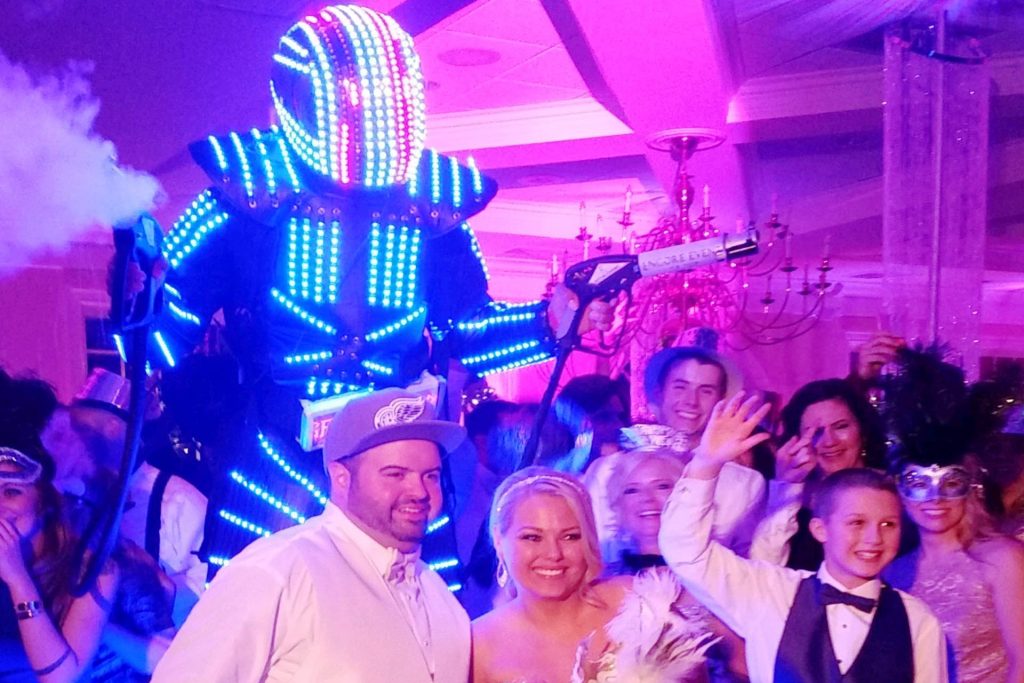 crowd-pleasers are caricature artists, live musicians, & stilt walking LED robots 🤖
A valuable addition to your reception will also be a charging station. A charging station is one of the must-have things that every bride needs. Giving your guests the option to charge phones and devices will be greatly appreciated.
Your guests will take a lot of photos and even share them on social media. This can drain the batteries on their phones fast.
You have planned a well-curated playlist that is tailored to your taste. Surrendering control over the songs may seem intimidating.
However, this could be the best thing to kick-start your party vibe! Make sure to play all of your important songs while leaving room for guest suggestions.
It is very easy to dismiss songs that you don't like. Just because you don't like them doesn't mean that others in the room agree. Some of the songs that don't make your must-play list might be EXACTLY what your party needs to make it memorable.
Music Tip: guests will dance to songs they know the words to
This means you shouldn't ignore those overplayed songs from high school. That might just be what everyone wants.
They might choose a throwback hit from the 80s that has been forgotten by many. This can elevate the whole atmosphere with bittersweet nostalgic feeling. A guest might choose a pop culture ballad that is ideal for slow dancing.
There is a way to bring your entertainment experience to another level. While your jam is playing, consider having a dry ice effect. Not many have experienced this sensation, so they will feel like they are dancing on a cloud!
Not everyone feels like leaving after the reception has ended. When everyone is having the time of their lives, many of your guests will think, 'I wish it lasted longer.'
By hosting an after-party, they can continue celebrating. If you decide to host a post-reception after-party, remember late-night snacks. Every guest becomes moody when hangry 😠
what fun things are you planning on doing for your guest, tell us in the comments below
This can be a pizza station, food truck, taco table, donut station, waffle table, or more! If you are taking the party to a bar then plan some snacking options there as well.
Founders Robert + Nicole Reno
With a combined (4) decades in the industry; we've trained hundreds, booked thousands, & partied with millions. Our first-hand experience allows us to empower others to succeed & be great… (read full bio)
Founders Robert + Nicole Reno
With a combined (4) decades in the industry; we've trained hundreds, booked thousands, & partied with millions. Our first-hand experience allows us to empower others to succeed & be great… (read full bio)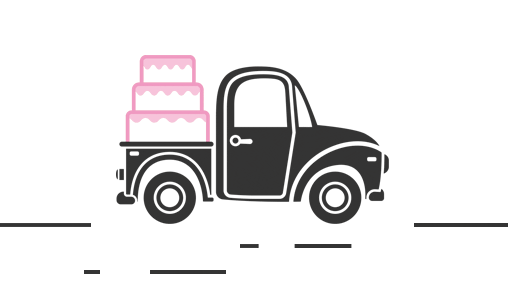 The content of this website is intended for informational purposes only & does not constitute legal, financial, or credit advice.