Unless
you are me
probably not…
I mean, we are talking about your wedding day. It needs to have a cohesive look (unlike my wardrobe last Tuesday).
So you get onto Google & start looking for inspiration only to feel overwhelmed. Where do you start for finding wedding themes that match your style & personality?
this guide covers traditional, modern, & contemporary weddings
That is why we have researched and come up with (5) different styles for your upcoming wedding. Styles are different than themes. So planning a fall-themed wedding wouldn't necessarily be considered a style.
So we've included styles that are popular and others that are uncommonly unique. Perhaps you could even choose one of our listed themes for your big day!
✔️ The best part of all is you will find inspiration within these five themes.
Average Read Time: 4 minutes 20 seconds
More about the (5) Types of Wedding Themes:
Timeless and elegant are some words we can use to describe a classic style. If you are looking for a neutral, romantic, or formal aesthetic, this might interest you.
You can host a classic wedding at any traditional wedding venue. This can be a hotel ballroom, a white tent over a formal green lawn, a manor house, or even a family property.
You can transform any regular wedding venue into a classic one by adding wedding pipe & drape. This is an easy way to cover up walls & divide a room with draping so it looks better in your wedding photos. This looks amazing when set up as a backdrop for your ceremony or head table.
classic décor includes lush florals, greenery & some romantic lighting or candles
Classic weddings are commonly traditional with a church or civil ceremony. This is followed by a reception, a three to five-course dinner, along with black tie etiquette. Your photographer will also have a traditional approach to formal photos.
If you are into romantic interpretations of past decades, then a vintage wedding is the right style for you. The beauty of vintage style is how you can adapt it to your personality.
You can choose anything from medieval, the 1920s, the 1950s, or any decade you prefer. Make sure you stick to a specific time-lapse for your decorations so your overall aesthetic is relevant.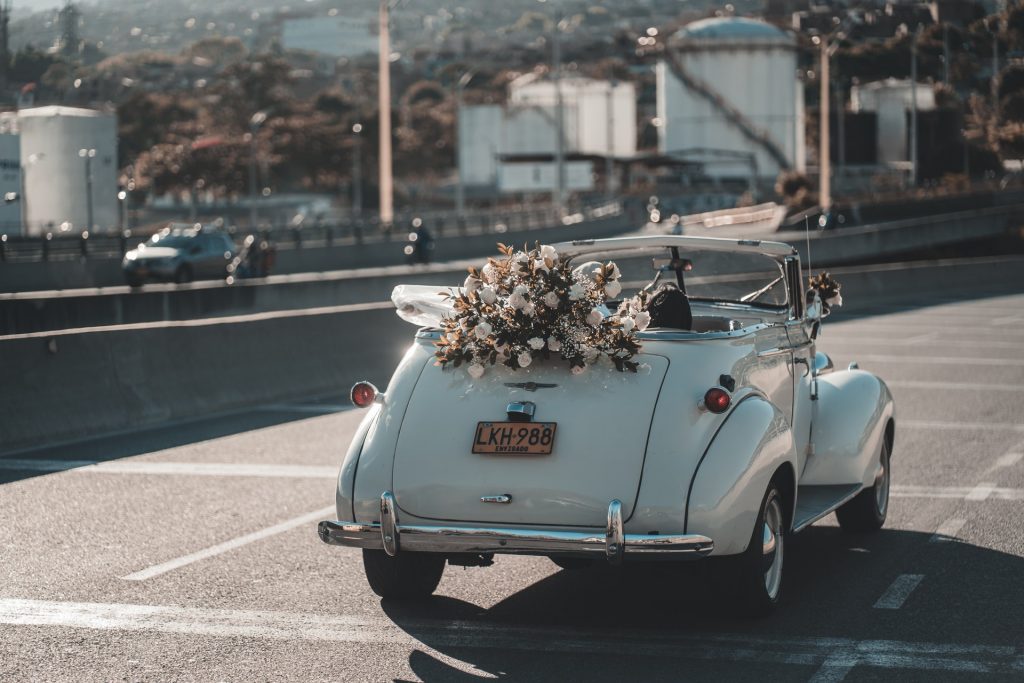 the only rule for vintage weddings is that there are no rules
When you organize a vintage wedding, we recommend you take advantage of buying a statement piece. You can find these at a super reduced price! Your drinks and even the wedding cake might have the same feel as the era you chose.
For example, go on a hunt for vintage frames or mirrors to place here and there. Perhaps snag 1930s inspired wedding dress and arrive at your ceremony in a car from that decade.
Want to Save Money?
Talk to a party pro now!
Sophistication and elegance are the main characteristics of a modern wedding. This style of wedding can focus on minimalism and is considered less cookie-cutter. Skip gigantic floral centerpieces & replace them with stylish glass vases of single stems.
That is all you need with a clean and neutral color palette. Consider unique contrasting items in colors like black, emerald, copper, and even gold tones.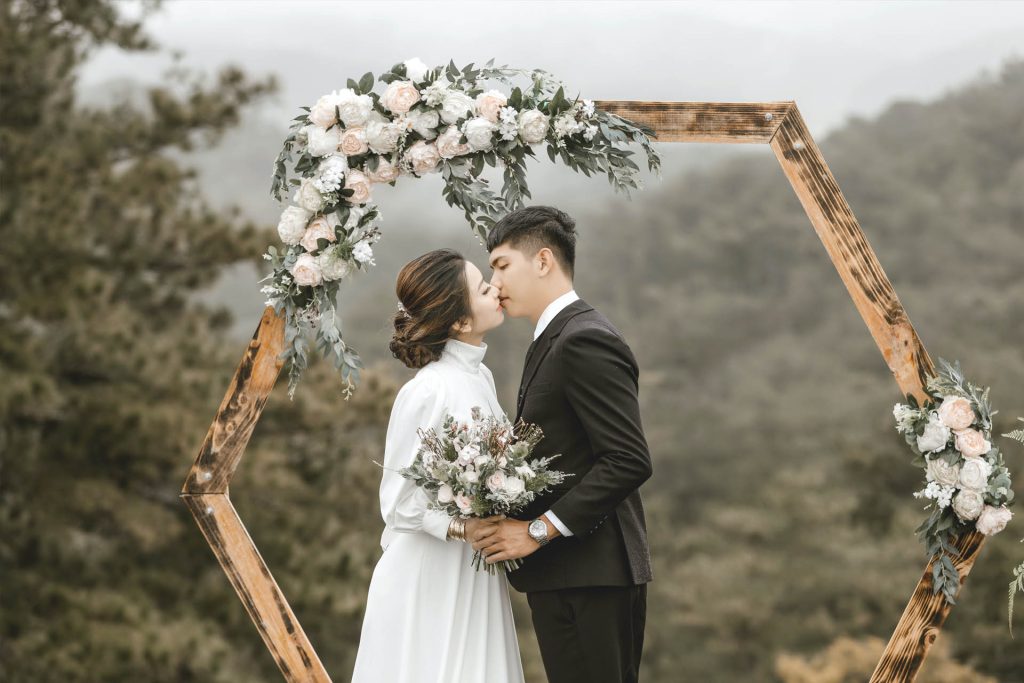 If you are a city couple, why not have a rooftop wedding overlooking the city skyline? A modern approach includes unconventional dinner options such as a pizza buffet or street food from a wedding food truck.
There are no limitations just simple and magical. Oh yeah, custom signature drinks should be part of the deal.
modern wedding venues include gardens, repurposed warehouses & museums
And when it comes to entertainment and photography, there are always interesting alternatives. For example a unique (3) piece band for cocktail hour. This might work better with your theme compared to a classic DJ.
Photography and videography have a major part in modern weddings! You might like a cinematographic or short film style. Besides same-day edits, highlight love stories can be shared via social media online.
Do you think about wooden pieces, natural settings, and plenty of greenery for your big day? A rustic style might be the answer for you. Rustic weddings are laid back and balanced between formal and casual.
This leads to a great set of options for wedding venues and decoration. Do you want a slightly formal gathering? Go for a rustic tented garden wedding.
Include natural elements in your decoration, such as wood, glass, burlap & even DIY floral centerpieces. Rustic wooden tables and cross-back chairs are some of the most popular alternatives.
If these rentals are too expensive then you might consider doing a thrifty bohemian theme. Add a little elegance by incorporating an ivory table runner, gold rim glassware, and some taper candles.
want a casual & natural atmosphere, a barn wedding might be your best choice
When it comes to food and drinks, there are no special requirements. You can either choose a casual buffet-style meal or a formal plated dinner. The same goes for guests' dress code.
Depending on the time of the day and location of your wedding, you can go for a dressy casual, cocktail, or formal attire. Hosting an intimate backyard wedding is just one of our (7) tips for wedding planning savings.
Doing it yourself is the greatest option for a couple who is hands-on and has plenty of time to personalize their wedding. DIY projects are fun, affordable, and entertaining! The best part of all is you don't need to stick to a specific aesthetic because a DIY wedding is all about making things your way and with your hands.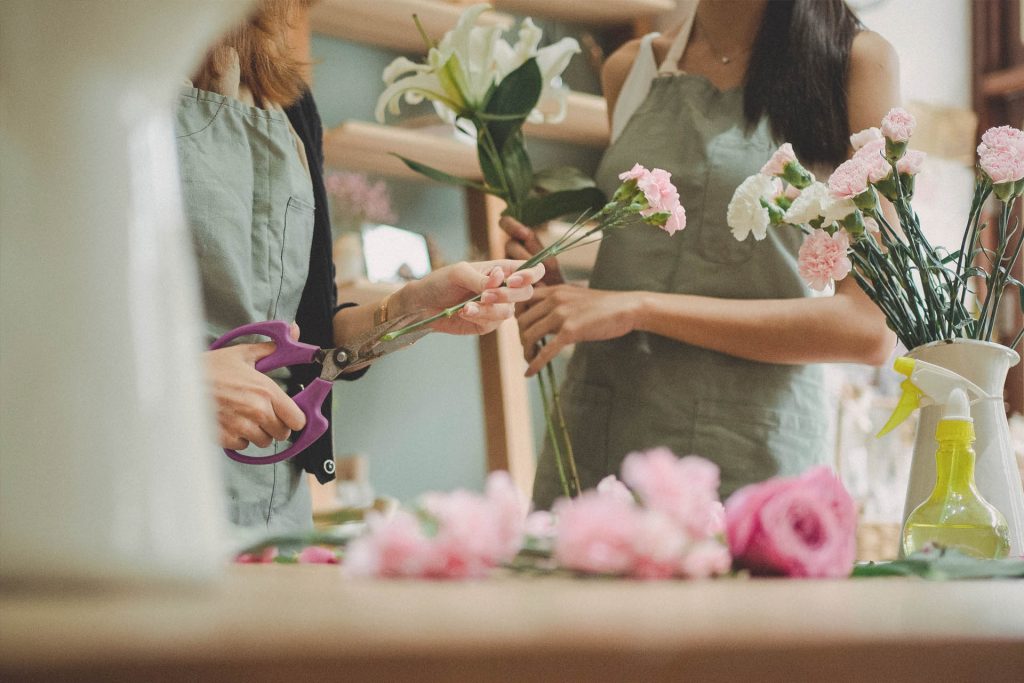 If you are going for bohemian wedding vibes, then you should choose a venue with natural elements like a garden. On the other hand, a traditional wedding will be easier to decorate. The same goes for neutral venues with elegant items like a statement staircase & sparkling chandeliers.
DIY weddings usually happen at versatile venues that have limited décor
When you organize a DIY wedding, you can make sure each detail is handled with care. You get to put a little bit of your love into the table seating chart, invitations, and wedding favors.
There are plenty of things you can rent and DIY. Doing things your way is all about saving money. If you want more information we suggest you read our article on the pros and cons of DIY weddings.
These are only some of the many ideas out there for your upcoming wedding. We hope you soon find the style you prefer for your big day.
do you think there was a wedding style we left out, tell us in the comments below
Keep in mind we offer many services for your DIY projects. Once again congrats and happy wedding planning 😍
Founders Robert + Nicole Reno
With a combined (4) decades in the industry; we've trained hundreds, booked thousands, & partied with millions. Our first-hand experience allows us to empower others to succeed & be great… (read full bio)
Founders Robert + Nicole Reno
With a combined (4) decades in the industry; we've trained hundreds, booked thousands, & partied with millions. Our first-hand experience allows us to empower others to succeed & be great… (read full bio)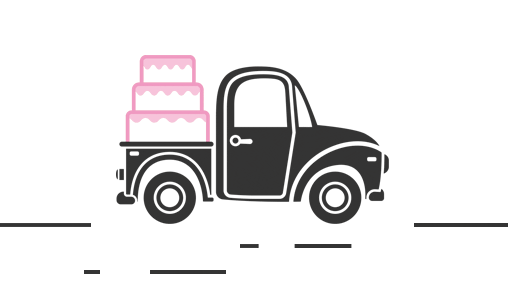 The content of this website is intended for informational purposes only & does not constitute legal, financial, or credit advice.