Cutting
guest lists
is a tough grind!
Side note: I remember like 5 people from my grade school days. Yes, we want to share this amazing journey with everyone (include the 5 people from grade school) because planning a wedding such a friggin' beautiful experience.
There are so many services for you to build the wedding of your dreams.  We must address the elephant in the room… your budget!
we will cover all the ways your guest count influences your wedding budget
Wouldn't it be nice to plan a wedding without having to worry about the budget and how much things cost? However, vendors cost money and we need to budget for what we need.
✔️ So let's get into it & discuss the biggest cost driver your guest count.
Average Read Time: 4 minutes 15 seconds
How Guest Count Affects Your Wedding Budget:
You don't want to book your venue without knowing how many guests you're going to be hosting at your wedding. Your guest count will very much determine what venue you'll book.
How does venue size affects wedding budgets

?
Cost per guest

: Larger venues often require a minimum number of guests, which can lead to higher costs per guest. Additionally, venues with a larger capacity may charge more for rentals, such as tables, chairs, and linens.

Additional staffing

: Larger venues may require additional staffing, such as security or valet attendants, which can increase the overall cost of the wedding.

Food and beverages

: Larger venues may require a higher minimum spend on food and beverages, which can significantly increase the overall cost of the wedding.

Decorations

: Larger venues may require more decorations to fill the space, and this can add to the cost.

Transportation costs

: Larger venues may be located in more remote areas, which can increase transportation costs for you and your guests.

Size of the wedding party

: if you have a large wedding party, a smaller venue may not be able to accommodate everyone comfortably.
And yes, I know what you might be thinking, many things cost a lot of money at a wedding. All those costs depend on how big your guest count is.
Just think about it, and you'll realize just how much the number of guests affects the cost of your wedding. It's not only about the venue size, but also the parking space and the legal capacity for guests.
Food is one of the many things that have to do with your guest count. Most catering services normally charge you for every guest and vendor meals included.
This is not just the food but also drinks, the plates, and cutlery. As your guest list grows, so does the catering bill.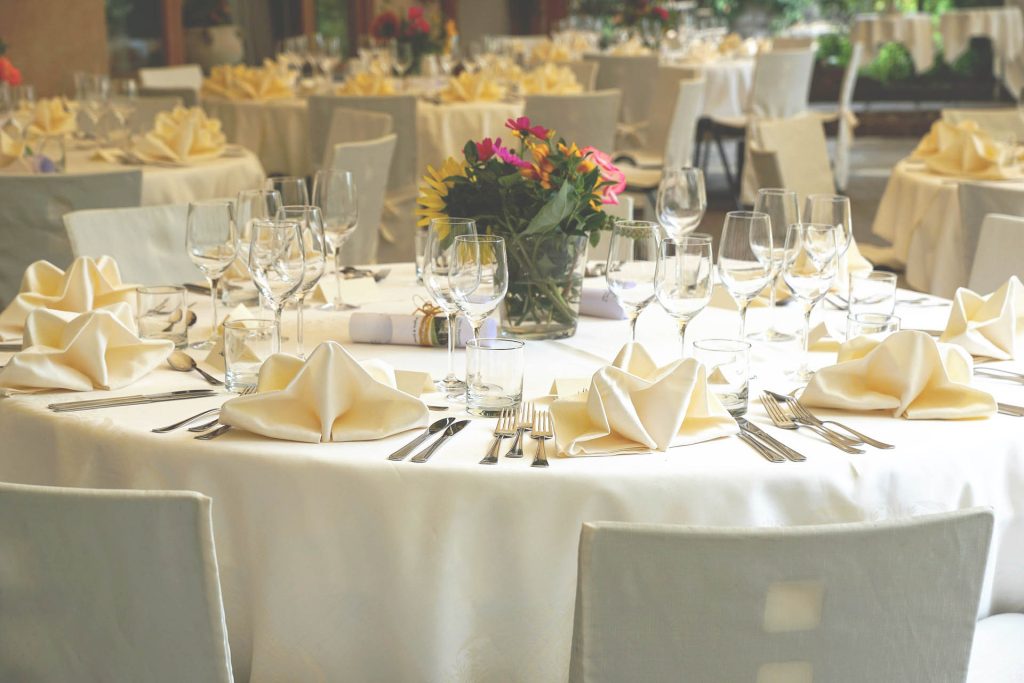 another forgotten fact is the amount of time it takes to feed the people you invite
Choose in-season ingredients

: Using in-season ingredients can save money on food costs because they are readily available and therefore less expensive.

Consider a buffet-style meal

: Buffet-style meals tend to be less expensive than plated meals because they require less staff and table service.

Be mindful of the alcohol

: Alcohol can be a significant expense at a wedding, so consider limiting the number of bar options or using a cash bar instead of an open bar.

Plan menu around the venue

: If the venue has a kitchen, consider hiring a caterer who can prepare your food on-site, rather than having it brought in.

Choose a family-style meal

: Family-style meals are a more cost-effective option than plated meals and allow guests to interact more with each other while they eat.

Consider a dessert bar

: Instead of a traditional multi-tiered wedding cake, consider a dessert bar with a variety of sweet treats. This can be less expensive and also allows guests to choose their favorite desserts.

Go for a smaller plate

: A smaller plate will mean less food is needed, and therefore less cost.

Be mindful of leftovers

: Plan for leftovers and make sure to order enough food, but not too much, so that you're not wasting money on food that goes to waste.

Be creative with your menu

: Consider alternative options like food trucks or a BBQ to keep costs down.

Ask for discounts

: Ask your vendors for any discounts or promotions they may be offering at the time of your event.
DIY venues might have an hourly rate instead of a daily rate. If your venue is booked hourly then you can potentially save money. One great way to do this is by inviting fewer guests. You will potentially need less time for your venue rental.
Want to Save Money?
Talk to a party pro now!
The venue you choose depends entirely on how many guests you will be hosting. Because the venue won't be the same for 50 people and 300 guests, your decoration will also be affected.
Renting additional decor

: A venue that is not already decorated may require additional decor rentals to make it look presentable for your wedding. This can add up quickly and affect your decoration budget.

Restrictions on decor

: Some venues have restrictions on the type of decor that can be used, such as no open flames or no hanging decorations from the ceiling. This can limit your decor options and increase costs if you have to find alternative decor solutions.

Cleaning and setup fees

: Some venues charge additional fees for the cleaning and setup of decorations. This can add up quickly and affect your decoration budget.

Natural beauty

: A venue with a lot of natural beauty, such as a garden or beach, may require less decor as the natural setting provides a beautiful backdrop.

Space limitations

: A venue with limited space may require you to be more creative with your decor, as you'll need to make the most of the space you have. This can affect your decoration budget if you need to purchase additional decor to fill the space.

Climate considerations

: A venue that is outdoors or doesn't have air conditioning may require additional decor to make the space more comfortable for guests.

Lighting

: A venue with poor lighting may require additional lighting rentals, which can affect your decoration budget.

Themes

: Some venues have a specific theme or style that they are known for, which can influence the type of decor you choose to complement the space.
Keep in mind that if you have a big venue for a big wedding, you will need more decorations to fill the room. This means hiring high-level vendors to install very expensive rentals to make it look nice.
save money by installing DIY rentals yourself without hiring expensive vendors
If you're going for a more cost-effective wedding then you might consider planning a micro-wedding. A smaller guest count can save money in terms of decorations.
One of these things is DIY uplighting. Another great alternative might be wedding rentals like monogram lights to give a custom touch to your decorations.
You might be considering throwing a huge event for your wedding, with a couple of hundred people attending. If you're on a budget (even if it's a big one) it may not be worth it to invite that many people.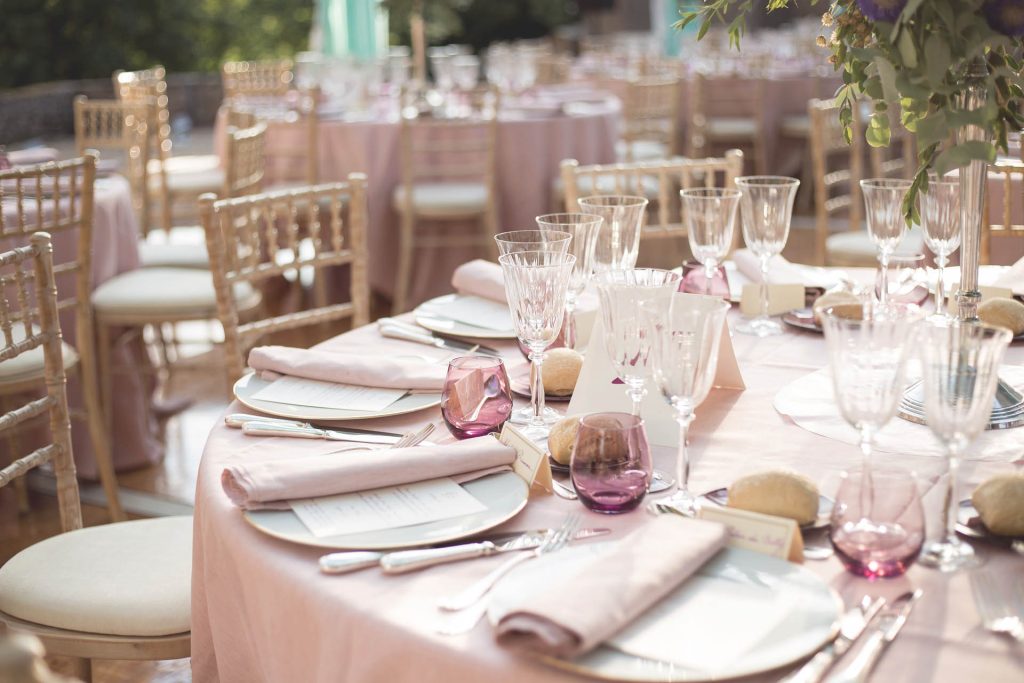 Imagine you have a budget of $30,000, and you're thinking about having 200 guests at your reception. This would cost about $150 per guest, which might sound like a considerable amount. You'll have to book a big venue with a lot of decorations, uplighting rentals, party draping, flower backdrops, favors, food, staffing, cutlery, & plates.
Imagine you have the same budget, but you only invite 50 people to your wedding. Now it's $600 per person, which comfortably includes everything you need for the wedding. This leaves room for other expenses like your honeymoon or anything else you want at your wedding.
some basic math & we all realize how costly the guest count can be
So now that you think this through, do you want 200 people at your wedding? Do you feel like you must invite that many people?
You probably are not that close and personal with 200 people. Think about who you want to share these moments with at your wedding.
Many couples invite relatives they haven't spoken to in years. This can quickly lead to more invitations from family you don't regularly speak to.
Try to avoid acquaintances that you haven't been in contact with for a very long time. You need to remember that they will want to bring their plus ones.
don't invite everyone you ever met to your wedding… it can get excessive
Weddings are considered social events. It can be tempting to invite everyone you know. Don't forget the main purpose of a wedding. This is a celebration of your love for your significant other.
The people you invite must be people who will celebrate the union between you both. Not some random co-worker you never talk to.
Sit down and take the time to figure out who is a part of your journey. You and your partner will be able to dramatically reduce that guest list.
what is keeping you from reducing your guest count, tell us in the comments below
You're not obligated to invite every single one of your friends or every coworker. You don't have to invite all your relatives, just those members of your family with who you are truly close.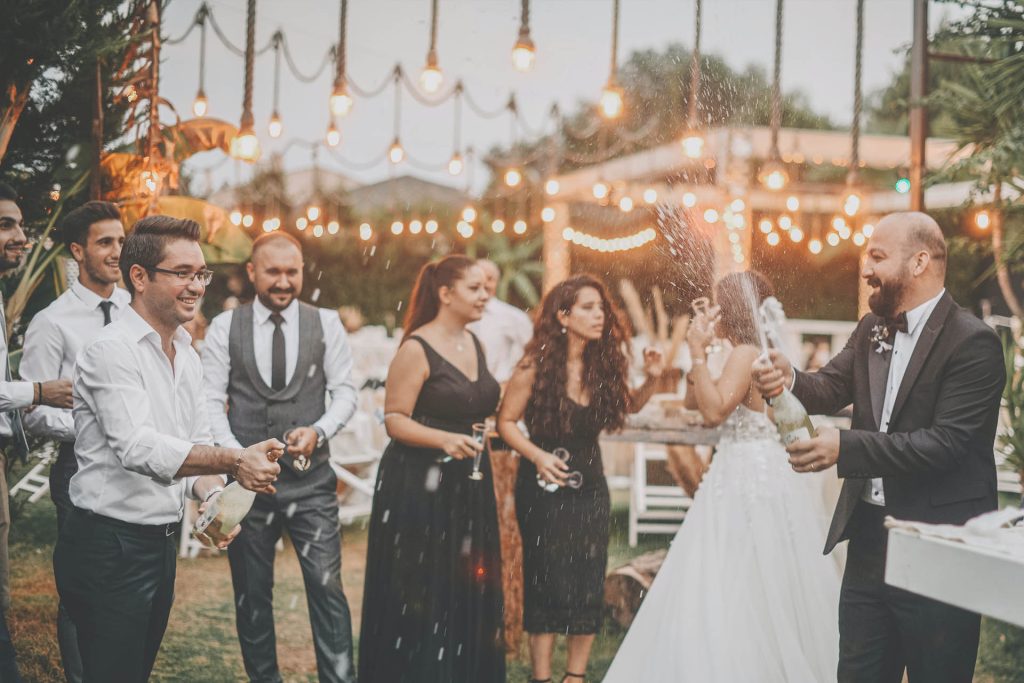 It should be a reunion with those important to you and your loved ones. This will make your wedding more memorable, less stressful & overall a better experience.
Founders Robert + Nicole Reno
With a combined (4) decades in the industry; we've trained hundreds, booked thousands, & partied with millions. Our first-hand experience allows us to empower others to succeed & be great… (read full bio)
Founders Robert + Nicole Reno
With a combined (4) decades in the industry; we've trained hundreds, booked thousands, & partied with millions. Our first-hand experience allows us to empower others to succeed & be great… (read full bio)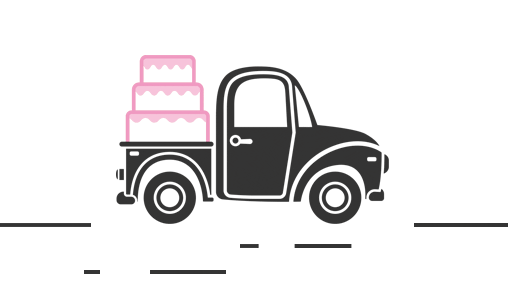 The content of this website is intended for informational purposes only & does not constitute legal, financial, or credit advice.