If so…
then you
need to read this article
When choosing the ideal space you may need to divide the room into more sections. There are many reasons why you might want a temporary privacy wall at your party. The first thing that might pop into your mind is a room divider wall.
The best way to divide a room without a wall is to use an air wall at the venue. These are portable wall partitions that can adjust according to your needs.
there is an easier way to turn this rental into a DIY project
✔️ No airwall? Then rent the equipment you need to build a temporary wall. Read our entire guide on how to do this with drapes & flower walls!
Average Read Time: 7 minutes 45 seconds
(5) Décor Ideas to Know Before Dividing a Room
First, let's discuss a common scenario for how to use a room divider. Then we go into details on how to use drapes & boxwood rentals to build a temporary wall.
this is a very popular option because of the functionality it gives
Dividing your party space into (2) or more areas will make each part of the room more useful than before. This will help you create a better room layout & adjust it to your requirements.
What is a common reason to use room dividers

?
saves time for a quick room flip (ceremony to reception)

create a small temporary wall to store equipment behind

completely set tables are squished behind drapes (no chairs)

after the ceremony, the draped wall comes down (5 minutes)

the tables move into place quickly (15 minutes)

the chairs are then moved next to tables (15 minutes)

guest don't see this, they are in the hallway for cocktail hour
Dividing a banquet room & giving it a unique twist in its layout can be very useful for your event. With the proper rentals, you can divide a room without a wall in minutes. Browse DIY backdrop rentals to see available styles…
Want to Save Money?
Talk to a party pro now!
It's time we chat about why you should divide a room with draping. This is especially important if you need to host an event that overlaps with another one.
Hide Equipment
Throwing a party means bringing important equipment for the event. This includes speakers, audio-visual supplies, & more. But what if you wish to keep the clutter of boxes hidden from guest view? You can use room dividers to discreetly hide some necessary equipment that you don't want your guests to see.
Section Off a Dead Space
A temporary wall project is an easy way to hide dead space. If your party venue has an area that you can't give a purpose, it's better to find a way to section it off than to let it stay empty. This makes your room look better. Using a room divider will hide those areas, making the most out of what's available.
Hide Undesirable Areas
Most party spaces are not tailored to client preferences. If you find an area less appealing, then using a temporary privacy wall to divide the room is the best solution. With this, you can easily hide the areas that need repair. Present to your guest only the space you decorated for your party.
Dress Up a Partition Wall
If your venue has a partition wall set in place, then you don't need to create one yourself. However, partition walls are usually dull-looking (this makes your event outdated). This is one more reason why you might use draping or flower walls to divide a room.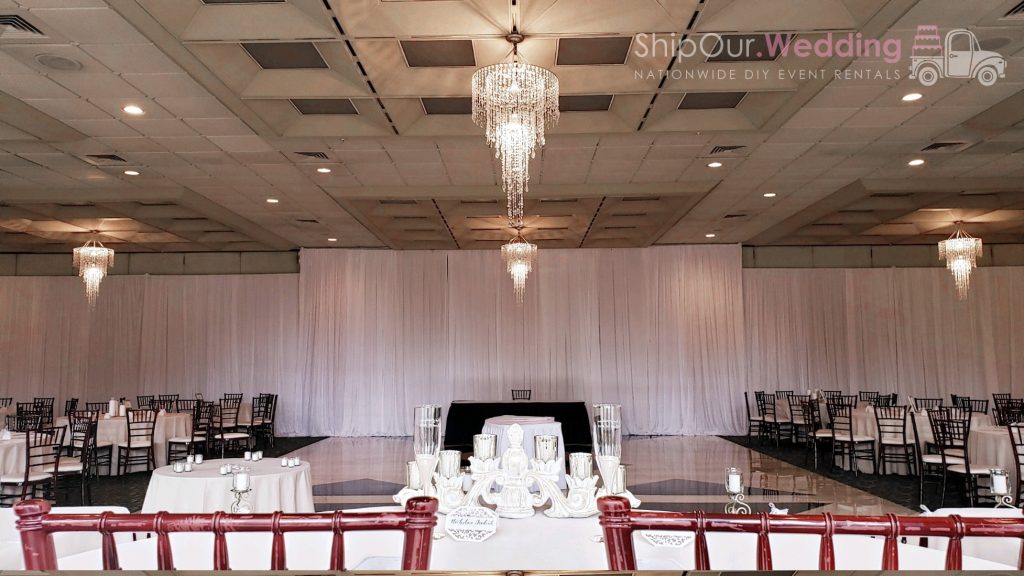 Choose from various draping colors and flower wall options to make it more visually appealing and suitable for the party theme. Whether you opt for a pink flower wall, a white feather wall, or a backdrop drape, we are sure that you'll manage to enhance the appearance of lifeless partition walls in your party venue.
Direct Guest Traffic Flow
Portable wall partitions stop guests from getting to areas you don't want them accessing. This applies to areas that are off-limits for guests. It might also be the case if you are decorating a particular area and don't want them to wander off elsewhere. Be strategic & block areas you don't want guests stumbling upon.
Create a Wall for the Flip
The best use of a DIY divider wall is to clean & repurpose a space easier. Are you using the same space for multiple event purposes? By using drapes or flower walls, you can make the process of rearranging the space from ceremony to reception a lot easier during cocktail hour.
There are many reasons to build a temporary wall at your party venue. It helps refresh your space making it new. This is good for practical purposes & allows for greater customization, functionality, & improved visual appearance.
Whenever you're dealing with a room that's larger than what you initially had in mind when planning for your event. It's better to come up with a dividing solution than to let your décor get lost in the space.
you don't have to drape all of your walls, here's why…
For example, if your room is 60ft long x 40ft wide, you can drape a smaller box that is 40ft long by 20ft wide. Instead of covering all walls, you can make a smaller room within another room based on your guest count.
Measure Your Space
First, you need to know the venue's size. For that reason, it's best that you contact the space & get the correct measurements. Ask your venue or measure it yourself. This is the only way to ensure the rentals you get will perfectly match your space.
Our adjustable backdrop drape kits are one of the best curtain room divider ideas. The height adjusts between 4ft – 10 ft tall (even higher by renting upright extensions). The width adjusts between 7ft – 10ft wide. Always order 10ft – 20ft extra so you have better odds of fitting your measurements.
Get the Right Equipment
Drapery is made from all kinds of materials, including sheer ones, such as tulle, chiffon, or organza. Be very careful here with the type of material you rent. Opting for a sheer fabric doesn't meet the purpose of dividing a room, does it?
For that reason, we advise that you rent poly silk draping. It gives more coverage & also weighs more. This makes it more unlikely to move around & uncover the area you're trying to hide. Choose from over (10) fabric colors.
Setup Your Kit
Now that you've got the right size and material, it's time to do the setup. This is one of the most important steps.
First, start by assembling the framework. This consists of uprights, baseplates & horizontal cross bars you'll need to connect. Ensure they're secured & stable to avoid a divider wall collapsing in the middle of your party.
Once you set up the framework, it's time that you attach the draping (4 pieces per crossbar). If you get it in poly silk, then you won't need any additional equipment to secure it, as there's minimal chance of it flowing around.
instead of paying someone else to do this for you, save by doing it yourself
Finishing Touches
Going for drapes is a great idea. Embellish décor with elements to make it look dramatic. Of course, this depends on the type of party you're hosting. You may consider decorating the drape with flower garlands or backdrop stands.
Apart from drapes, flower walls are another great rental option to divide your party venue. They serve the goal of repurposing & splitting a room into two.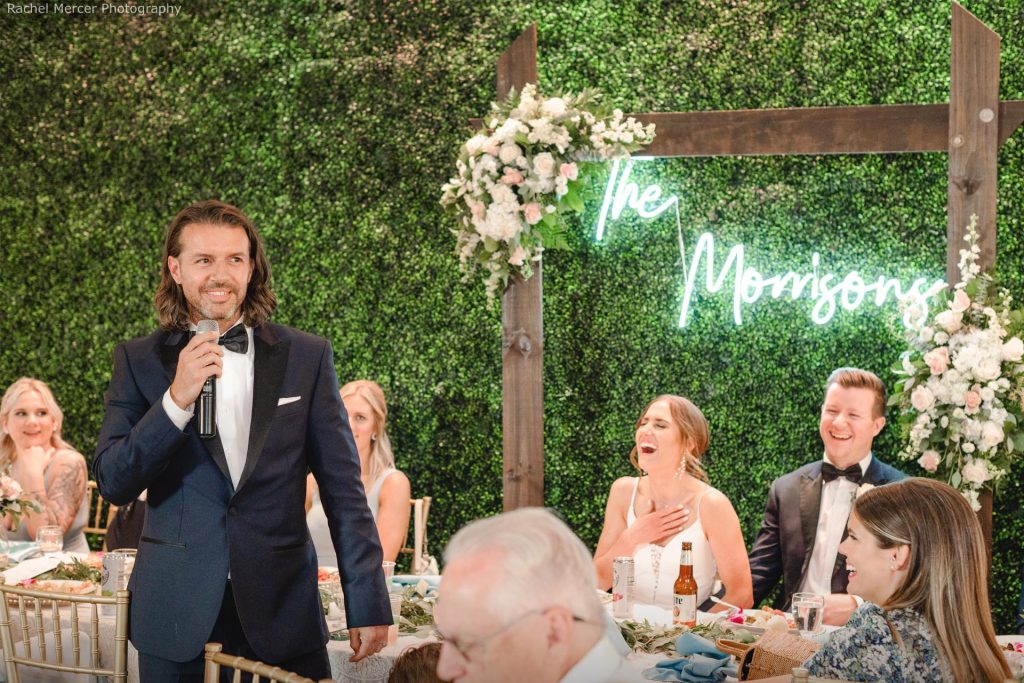 this can be a better option since it allows for more versatility & customization
Renting a DIY wall of flowers is also a budget-friendly option. This means that you'll have complete freedom in choosing the option that best suits your vision.
The steps for building a dividing wall using drapes & one using flower wall rentals are more or less the same. The only difference is in the equipment you use. Here are the steps you need to follow to achieve stunning results:
Plan the Layout
The first step is to carefully consider the venue layout. Think about where you would want to place the flower walls you choose, considering the size and shape of the space. Another thing you should consider is draping doorways & how you expect guests to move around tables, dance floors, & serving stations.
Measure the Space
Next, you need to take the proper measurements to get flower walls that will fit perfectly into the space. You don't have to cover your entire room in flower walls or boxwood hedges. Instead, rent a small 8ft or 16ft wall and have it centered on a head table with draping on both sides.
Rent the Right Flower Walls
Flower walls offer greater versatility, given their many options. From different designs and flower types to the option to easily turn them into champagne flower walls, the creativity these allow for is almost endless.
  snazzy 3d video 
How large a flower wall you need depends on your venue size, budget, & expectations. If you're looking for a temporary privacy wall solution, then rent an 8ft flower wall with draping. Think blush or soft peach for a more romantic feel or purple or red for a statement decor piece. If you want a larger display then 3 or 4 walls connected can span up to 16 linear feet.
Setup
When it comes to setting up these lovely floral wall pieces, the process is so easy. Watch our video example to see how to attach flower garlands to a backdrop or add some draping pieces to it for a more sophisticated look.
If you're looking for a more versatile option to build a temporary wall and divide your venue space, then feel free to explore our products. Our floral walls come in (17) different realistic flower options. Easily find one that will match your style, theme, or color palette.
Now that you know how to create a DIY venue divider, all that's left to do is choose the right equipment to help you achieve your purpose. In addition, choosing the DIY option will help you save more money than if you've decided to hire another wedding vendor to do this job for you.
These are also great options for those on a budget. All you have to do is use your creativity & design a functional yet visually-appealing place you and your guests will enjoy.
Founders Robert + Nicole Reno
With a combined (4) decades in the industry; we've trained hundreds, booked thousands, & partied with millions. Our first-hand experience allows us to empower others to succeed & be great… (read full bio)
XO Team Ship
Founders Robert + Nicole Reno
With a combined (4) decades in the industry; we've trained hundreds, booked thousands, & partied with millions. Our first-hand experience allows us to empower others to succeed & be great… (read full bio)
XO Team Ship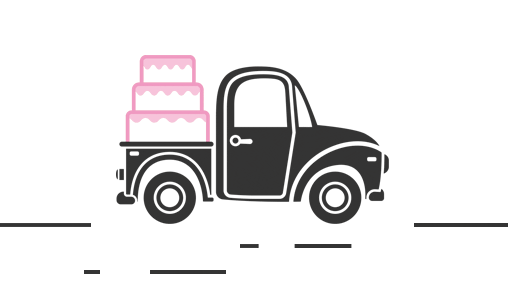 The content of this website is intended for informational purposes only & does not constitute legal, financial, or credit advice.