First of all, congratulations on your Indian wedding! There are many types and styles that depend on the tradition of your occasion. These range from common to over the top extravagant.
here is everything you need to know before renting a mandap
We will also share with you a great way to get the look on a budget with DIY Indian wedding rentals that ship direct to your door nationwide. Instead of hiring a local pro to do all the work, set it up yourself and save money. Draping décor is one of the 6 things that budget brides need. Want to get right to it? Keep reading our informative tips laid out below to learn more!
Average Read Time: 6 minutes 45 seconds
What You Will Learn about Indian Mandap Rentals: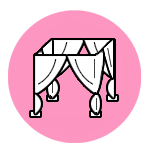 Mandaps (pronounced as mundap) are used in the Indian tradition. It basically translates to a covered structure with pillars. These are used for ceremonies as well as stages for receptions. This wedding ceremony draping has (4) sides so it forms a complete square. We provide do it yourself rentals nationwide so you can get an amazing mandap rental for a fraction of the price from local vendors!
Use Indian mandap stage décor at either a Sangeet or Mehndi Party
Online DIY rentals come with a (5) day rental. Use this mandap and draping décor for more than one event. In the Indian tradition the festivities take place for at least a week. Because of this there are many formalities and events that take place at the house as well as the venue. Another main benefit of renting online and doing it yourself is you only pay once for décor you can use several times.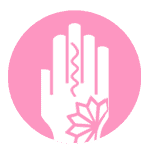 A Sangeet typically happens the night before the wedding. This is considered a pre-wedding event, almost like a rehearsal dinner but not quite. This event is filled with live performances instead of rehearsing. The events that take place at a Sangeet include choreographed dances, bhangra dance teams as well as singing. Traditionally guests are seated around the dance floor instead of at tables.
the word Sangeet translates into musical night
These live performances are done by family and friends and most events will feature 2-10 of these mini shows. Our favorite style of Sangeet performance is flashmob! This is when the dance starts with a couple of people and towards the end of the song includes dozens of people or more!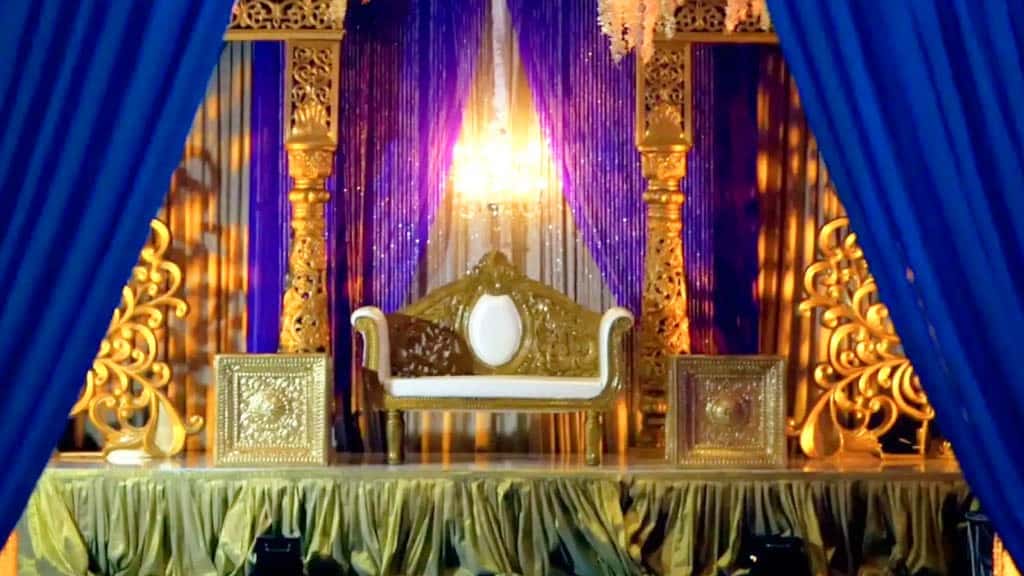 The typical décor used for a Sangeet party is not a mandap rental but a colorful wedding backdrop with a swing and stage décor. Ship Our Wedding® provides beautiful double backdrop rentals that have the ability to set up in minutes. Best of all you can customize your fabric colors so that the pipe and drape backdrop matches your colors. Use this with your existing stage décor to create a memorable backdrop for your guest performances.
everyone dances at a Sangeet
One of the most underrated ways to showcase your performances is with uplighting rentals. These lights not only add color but energy. This will make your wedding feel more like a Bollywood movie production. Work in bright colors and control all the lighting easily from your uplight menu screen or photo wifi connection. Best of all it is still considered DIY. It doesn't cost extra since you're not hiring a company.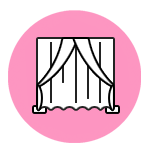 Traditionally the Mehndi party takes place at home. However, more and more couples are choosing to host this event at their venue. This has many advantages with pricing and decorating. Not only will this save money but it will also save you time so that you can focus more on enjoying your week with family and friends. We all know how much of a choir it is to get our homes ready for visitors. Leave the stress to your venue and just have your guest show up.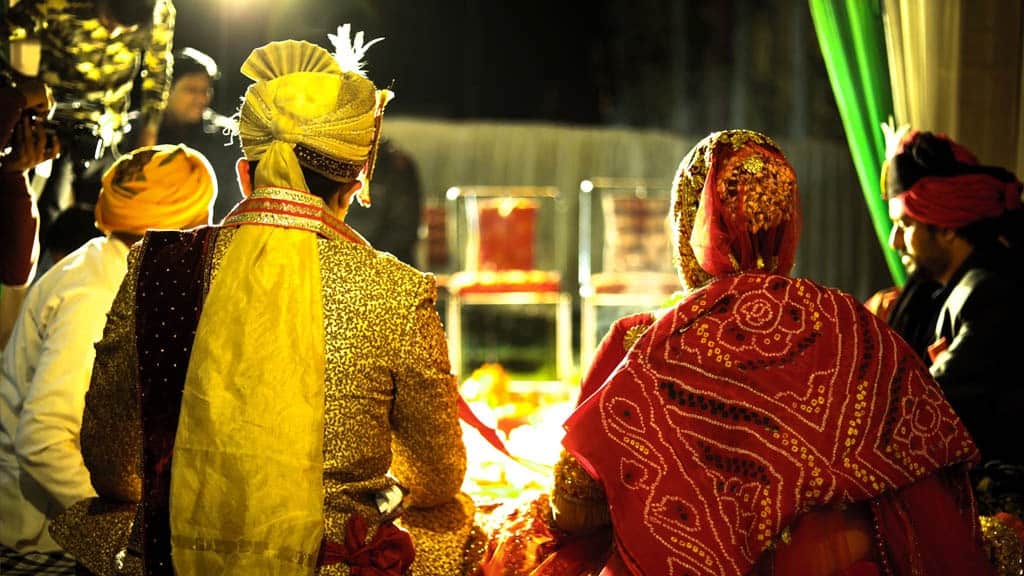 If you are hosting multiple events at the same location then your banquet hall will more than likely bring down the venue rental cost since you are reserving services for weekdays and weekends. This is the perfect time to negotiate your wedding package and get a great deal. If your DIY wedding rentals are already set up at the venue, then chances are you probably won't have to move them for your 2nd event on the following day. Also your venue will have more opportunity to decorate with your theme.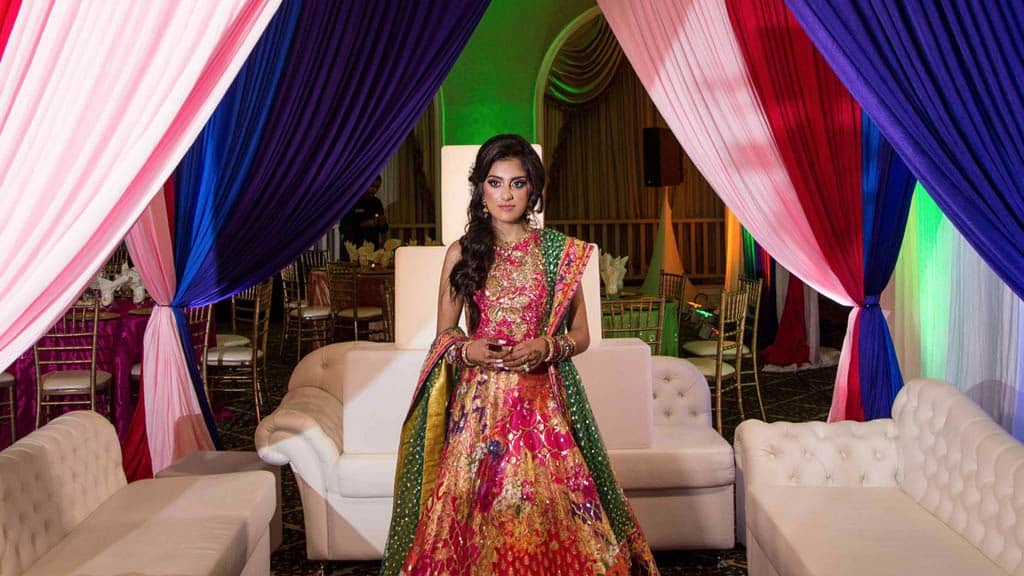 If using your venue for 2 days at the same venue, you will want to make slight modifications to your décor. This way your guests walk into a transformation that is different from the previous day. Probably the most obvious, change up your linens, charges and attire. A couple ways to repurpose your head table backdrop (as a different style or color). Change the color of your uplights to another color for the next day. Aim your wedding monogram lighting in a different location on a wall. Use different styled designs for any textured breakup patterns.
(4) popular Indian decorating ideas we have seen at events:
– Hang multi-colored umbrellas from the ceiling over your dance floor.
…….– Do this by suspending them from aircraft cables from air wall channels.
– Rent outdoor string lights that cascade from your ceiling across the event space
…….– Easily Hang bistro cafe lights from drop ceiling tiles or patios
– Work in multi-colored drapery swags from the ceiling.
…….– Attach a single point of drapery to the beam above drop ceiling tiles
– Hire a vendor to bring in colorful street carts for serving stations
…….– Give a group comfort feeling with multi-colored pillows, couches and throws
Just imagine all the possibilities in a larger space. We love seeing couples get creative and try to create an event that feels like you are in a bustling city with live performances. This really adds to the whole Bollywood vibe. Remember the Indian culture is based on Bollywood or Tollywood (this is either for North or South Indian geographic locations).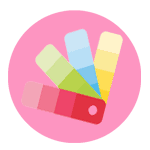 There are many ways to bring your event to life and what we recommend are using vibrant colors. Peacock colors work well for Indian mandap rentals as well as sweetheart table backdrops. This can be any combination of colors that include bright teal, deep blue, purple plum, or light lilac. If you want to go with more royal colors then red draping with pink and even gold blends very well.
We have seen couples bundle wireless DIY uplighting on white fabric to make the drapery match a gold or champagne ivory color with their event. We feel that drapery colors are so important that we dedicated an entire video tutorial to this. Compare the available colors above, how they blend and when to use them.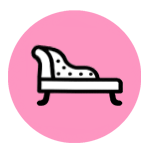 What Indian mandap rental would be complete without the furniture to go with it? These low profile benches and furniture are a necessary part of the wedding ceremony traditions. This is where the family will sit during your ceremony. The mandap will completely surround the furniture. Also besides low furniture for the ceremony, couples can use large ornate thrones and modern chaise couches for the reception sweetheart stage.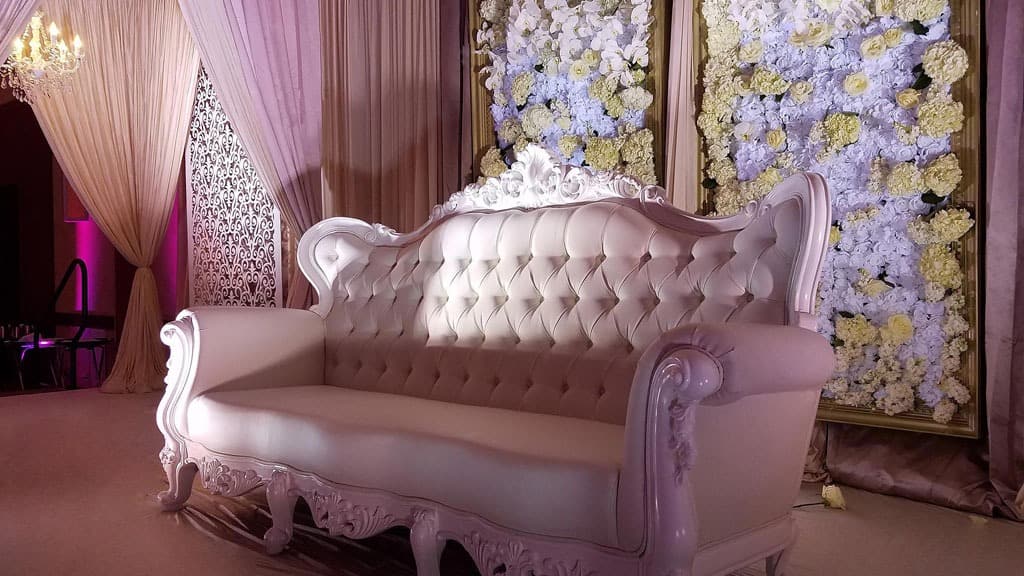 source your furniture rentals from a local company
The reason why is because furniture is too large to ship. This will help you save on delivery costs. Also any local vendor you hire will have packages available (umbrellas, statues, bowls) for any furniture you might need. This way you can get all the Indian wedding rentals without having to hire multiple wedding vendors. If the pieces you are requesting are custom you might even consider hiring family to provide furniture if they have it available.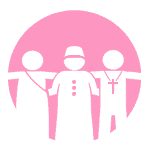 So imagine that you have a mandap setup for a ceremony in the morning that happens after the Baraat. A Baraat is the hour before the ceremony when the groom arrives. This includes dancing in the parking lot of your venue as the groom makes a dramatic entrance. This usually happens on a horse, vehicle or elephant. If possible some couples will use the same stage for their ceremony and reception.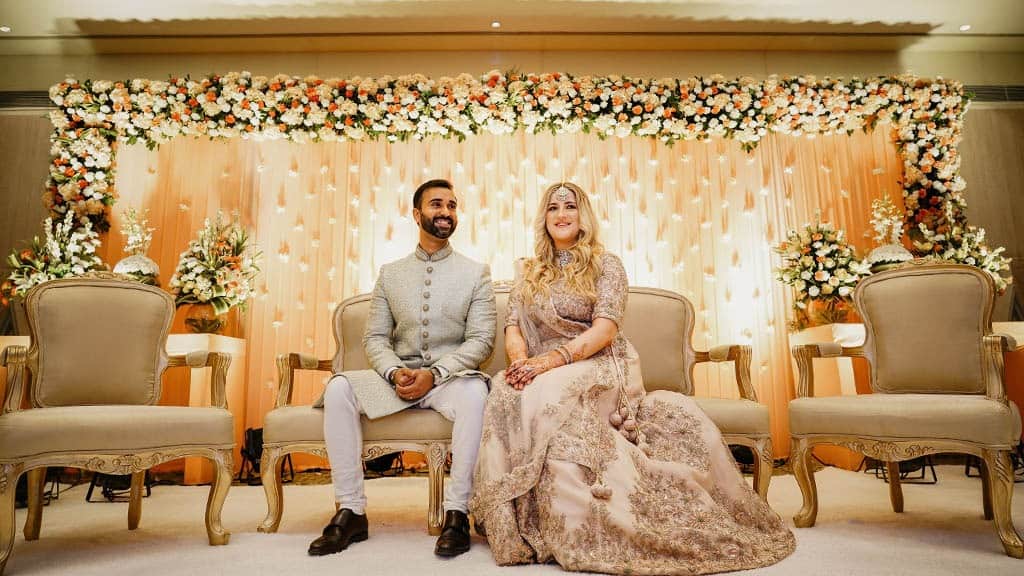 Other times couples will plan an Indian fusion wedding and flip the room. This means that the décor is changed from Indian to more Western wedding décor. Flipping a room is a great way to respect both sides of the family as well as both cultures.
One way to make this flip is to remove the mandap and going with a more traditional backdrop. This can even be a simple pipe and drape rental set up behind a head table. There are many do it yourself wedding draping kits available. More often couples will also change from traditional wedding attire (saree or Lengha) into something more traditional for the Western culture.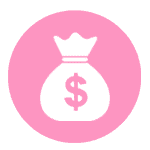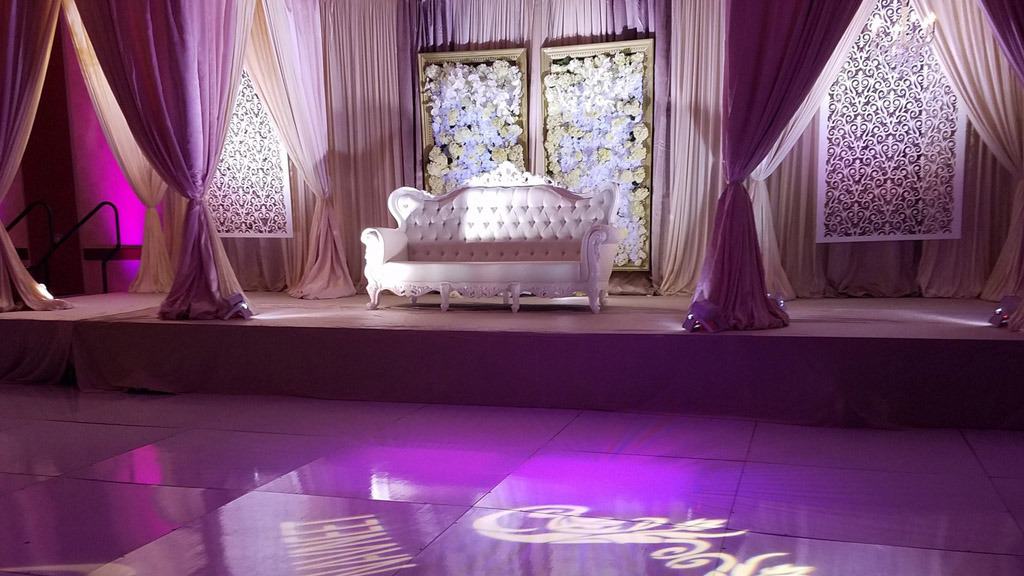 The cost of mandaps range from affordable to expensive. Large Indian mandaps rentals with crystal and hanging flowers might cost anywhere from $4,000 – $10,000. The majority of cost comes from labor to set up the structure. It requires ladders, power tools, box trucks, and multiple people. That might be considered too much of your budget if you are trying to plan your wedding under $10,000.
Plan your Indian wedding on budget with a simple DIY draped mandap
This same look can be done for less than $400. You can rent all the equipment online, it ships free both ways, and arrives at your door (2) days before your event. You can customize your colors, bundle in uplighting rentals and DIY draping for Indian wedding receptions. Enjoy the same decorating flexibility and even take it a step further by attaching silk flowers to the mandap. What we love about our DIY mandaps is how fast they set up. All you need is 1-2 people and this should be completed within 30 minutes.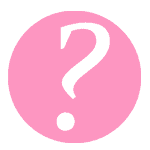 There are many events that take place in the Indian culture. Depending on the tradition will determine what style draping, lighting & furniture decorations you consider. There are many rituals of significant importance. Understanding how these relate to color and your overall theme will give you a sense of direction.
how traditional is your Indian wedding & what décor rentals are you incorporating, tell us in the comments below
There are many ways to decorate and infuse your personality into your event. Whether you want to go more traditional or DIY, there are options for both. We recommend making a budget first to help gauge what option you feel more comfortable with. When you do it yourself you save money & feel empowered knowing you were able to get the exact look you wanted.
Feel free to click any of our links above for more rental information. We hope you found our article helpful. If you need any help with how to plan a DIY Indian wedding, then do not hesitate to contact us. You can call us directly or send us a message on chat. Once again congratulations!
XO Team Ship
Let's Plan Your DIY Wedding Under Budget