Today
we help you
answer that question!
There are many different places to light up your event space. So let's help answer the question, 'is party uplighting right for you?'
When we say uplighting kits you might first think about lighting that goes on draping for a wall divider to create a gorgeous look. After reading our article you will learn the easiest ways to add to your party and give it another layer of lighting that leaves guests impressed.
learn uplighting secrets we've acquired doing over 5,000 events
We will lay out the ways uplighting can be used for different event types. The various reasons for it and what you can expect.
If you need more information on quantity, pricing, and features? Learn how much does uplighting costs. So let's dive into it and hopefully, we can shed some light on how you can do it yourself (no pun intended).
Average Read Time: 6 minutes 30 seconds
Discover Event Lighting Tips:
Your ceremony is the perfect place to incorporate uplighting. The ceremony is all about your moment and lighting helps add to that ambiance.
Just think about your photos and videos. They will tell a story. So how do you use ceremony uplights to improve the look and feel of your wedding?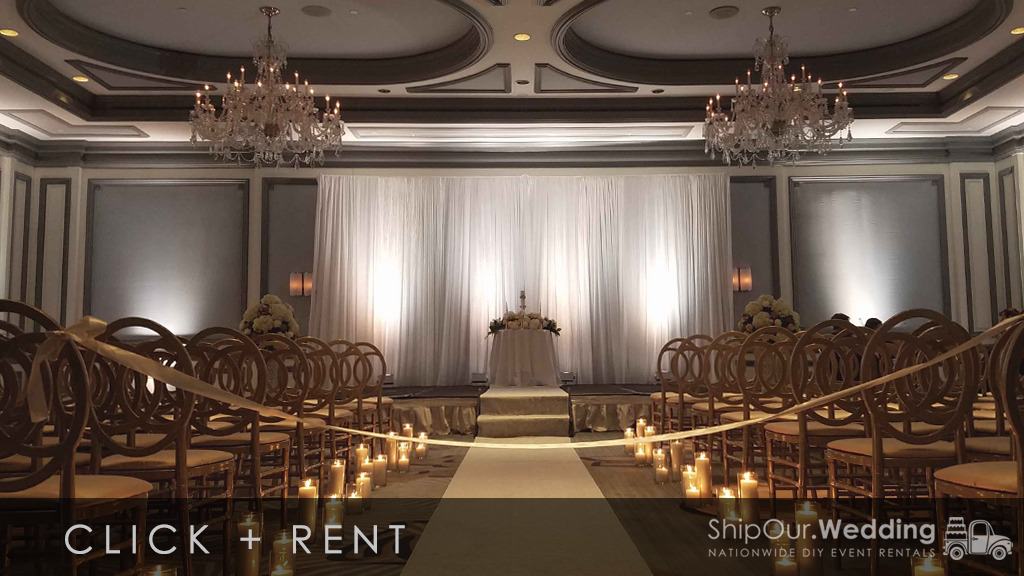 Your ceremony uplights can give a soft glow in the background. This is done with neutral colors that don't take away from your vibe.
What are popular ceremony uplighting colors

?
Soft Uplighting

Neutral Uplights

Pastel Colored Uplighting

Ivory Wedding Uplights
The uplighting at your ceremony is there to highlight the background. Your photos and videos will mostly highlight the emotion of the moment.
So this is when you can have fun incorporating your wedding colors! You can go one of three ways either simple, classy, or bright loud. Regardless of the reception uplighting color you choose, it should complement your existing theme.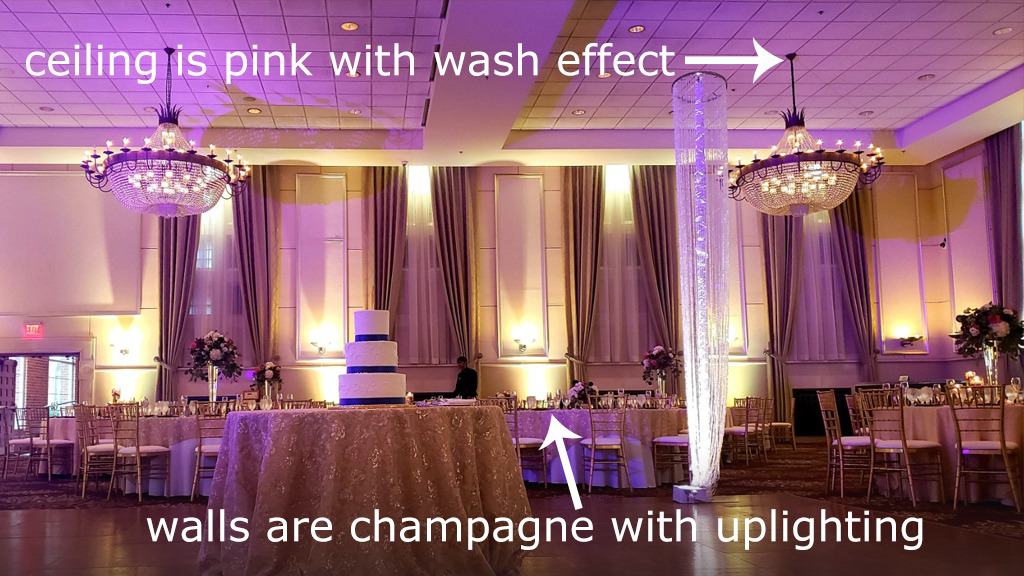 How to Create Uplighting in 4 Steps
Rent DIY uplighting for as low as $19 per light

Kits arrive the week of your party (free shipping)

Setup in minutes, pick any color, & get pro results

Use the return label & ship it back in the same box
Are your wedding colors complementary or are they on different sides of the spectrum? The reason to consider this is because you might use two different shades of bright color to add sophistication to your wedding reception uplighting.
This is a shortcut technique for advanced lighting that creates subtle shadows to look more high-end. If you are concerned that too much daylight will take away from your uplighting, then use white uplights.
White uplighting is the brightest light setting (because it uses all the lighting diodes on max) also this will go with any wedding theme. You can also calculate the time the sun is setting so you know when you will get the most out of your uplighting rentals.
Want to Save Money?
Talk to a party pro now!
For example, are you uplighting walls in your banquet hall or are you washing a tent canopy in uplighting? Are your lights being used on a DIY wedding arch?
What about a chuppah rental or pipe and drape kit in your venue or is it used to light up pillar draping in your pavilion? The possibilities with wedding reception lights are endless.
outdoor events are completely different, they require waterproof uplighting
If your event is happening inside then you can use any style of uplighting to change your room color. You will have easy access to power on the walls (so you can use a light that is not battery powered). However, outdoor events are a completely different situation.
Outside parties require uplighting that is waterproof. Also, because of a lack of power outlets, you need wireless uplights. This way you can set up the lighting anywhere and not have to worry about cords.
When you are lighting up a ballroom you need to consider the limitations of your event space. Is the room neutral or does it have a color tone?
It is common for most banquet halls to remodel their ballrooms every 3 to 5 years. Most modern ballrooms are grey, white, & black. This absence of color is a good thing because it will not conflict with the colors of your uplighting.
Now if your venue's ballroom is not updated and it has an existing color tone that might not work as well. We have seen some ballrooms with red carpeting and ivory gold walls. Even blue carpeting with pale green wallpaper.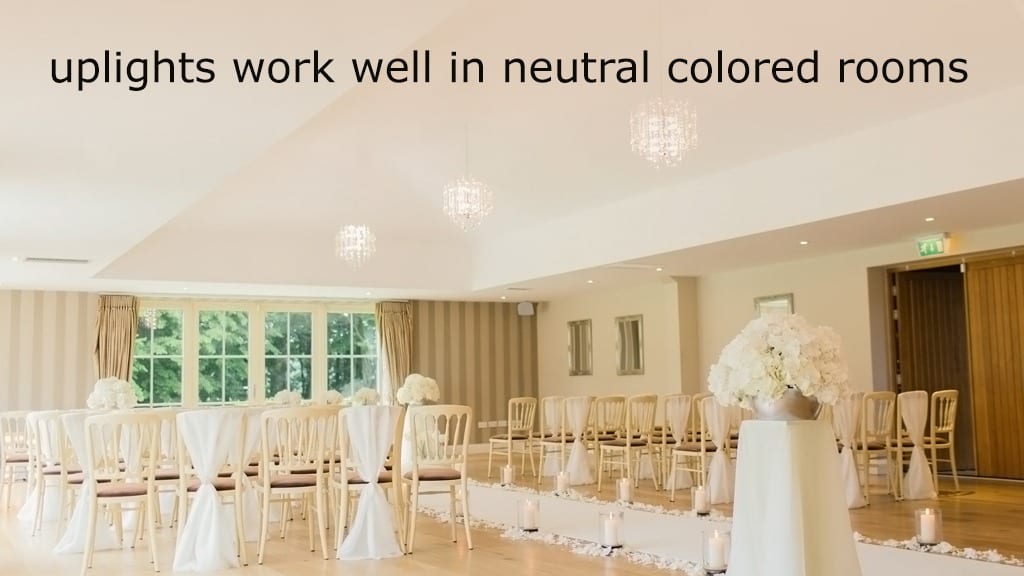 These colors can affect your lighting wedding rentals. Think of it like painting a room, you need to put down a primer coat first. So if you put a blue uplight on pale green walls you will get teal uplighting.
Most ballrooms fall short on the decorating style for curtain colors. 80% of the time the curtains will never match your wedding colors. Even worse are ballrooms with a lot of wood. This is great for rustic chic or thrift store wedding themes.
Wood is a dark color and absorbs any ballroom uplighting color. We recommend you consider these points before putting a deposit down with your venue. Because once you sign a contract it is hard to back out with vendors.
Your event is more than likely a celebration. You may want to add some energy to your event. What better way than with party uplighting.
To achieve a fun atmosphere you need uplighting that is easy to set up and control. These lights are used when music is played by either your band or DJ.
Typically this lighting is provided by your hired entertainment. If you hire vendors for the uplighting you are paying them to set up and change colors.
However, DIY uplighting gives you the best of both worlds. Not only does it save you money, but you are also able to have it change colors with the music all by yourself.
the single best way to make your uplighting look good is to dim the venue's lighting
Ship Our Wedding® uplighting gives you the party look with more customization. Not only can you sync your party light rentals together, but you can also control it with your phone using a free mobile app.
Have lighting slowly change colors, dance to the beat, and even strobe during the breakdown of a party song. Watch our video below for more info on how to set up DIY party lighting.
A lot of times couples think it is better to have the lighting stay one color the whole evening. Ask yourself do you want every photo to have the same look?
Uplighting that changes colors adds variety to your wedding photos. We have seen pictures of weddings where the lighting changed colors and it looks like a different party in each photo.
You can still get your formal shots before you switch over, just consider the fact how different colors can enhance your ambiance. When your lighting changes colors the dance floor will have more activity.
The single best way to make your uplighting look good is to dim the venue's lighting. This will give you more color saturation and is something we highly recommend.
When you need to splash color in specific areas, then accent uplighting is your best route. An example of accent uplighting is using (4) uplights for cocktail hour in a large hallway. Most hallways are bright so you will want to go with a primary color for your accent lighting.
There are (2) types of accent lighting. Accent lighting for adding interest in a space and accent lighting that doesn't work with your color pallet but it makes sense in the space.
For example, accent lighting could be red color in your hallway even if your event colors don't have any red in the color palette. One of the benefits of using accent lighting is to give the impression that your space is larger than it is.
If you look at a photo from a hallway and it has a different look, feel, texture, and color than your reception space it might feel like it was from a different event. This also helps tell a story & give a psychological impression you rented multiple rooms/spaces for your event itinerary.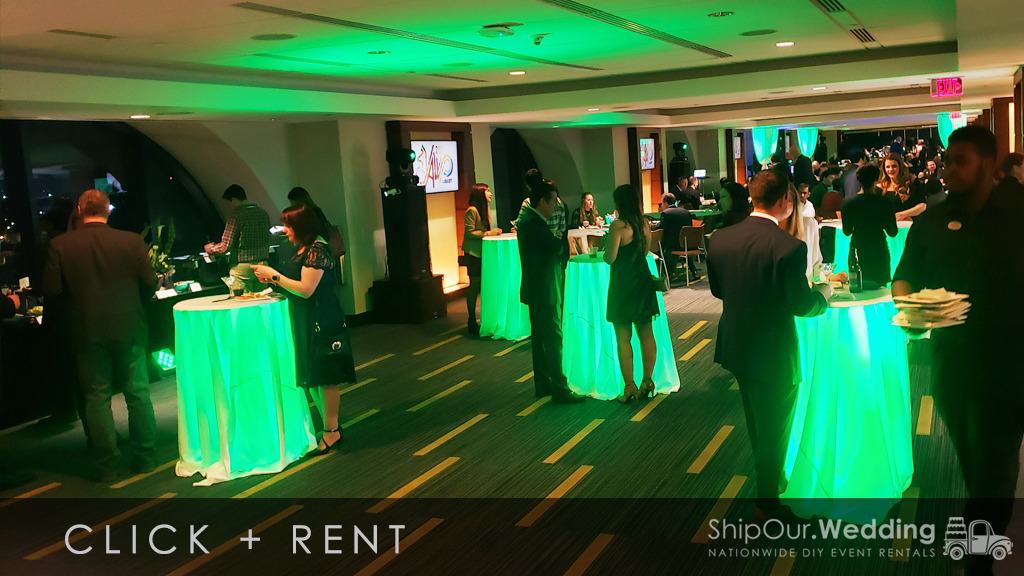 Bonus 3rd Type: Besides adding interest in a space like a hallway you can generate interest from nothing with accent lighting. For example, aim an uplight on a fake plant in your ballroom and watch it create shadows on the wall.
Use wireless uplights under your high tops with white linens to make them glow in the color of your choice. Create instant accent uplighting that is noticeable.
Make an accent look with break-up pattern gobos. These lights project textured patterns onto your walls with an image that covers large spaces.
It makes it look like there are shadows & designs scattered on surfaces. This is a cost-effective way to give a designer look on a budget with gobo lighting.
So there you have it, that is all our secrets on DIY lighting. It doesn't matter if it is uplighting, up lighting, or uplights; it is all the same thing. What matters are your event expectations. Do it yourself uplighting plays a huge role in the look & feel of your event.
still have questions on renting uplights, ask our team in the comments below
Ship Our Wedding® provides DIY uplights nationwide. Uplighting orders that rent (10) or more lights ship free both ways and are delivered right to your door. All orders include everything needed and are guaranteed to arrive at least 2 days before your event.
Uplighting creates a gorgeous backdrop in pictures, transforms your space to highlight your color, and even adds energy when you need it. There are many ways to achieve the look you want.
Founders Robert + Nicole Reno
With a combined (4) decades in the industry; we've trained hundreds, booked thousands, & partied with millions. Our first-hand experience allows us to empower others to succeed & be great… (read full bio)
Founders Robert + Nicole Reno
With a combined (4) decades in the industry; we've trained hundreds, booked thousands, & partied with millions. Our first-hand experience allows us to empower others to succeed & be great… (read full bio)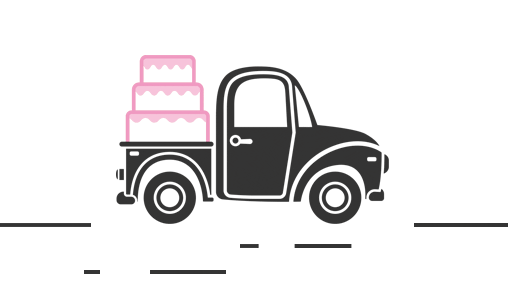 The content of this website is intended for informational purposes only & does not constitute legal, financial, or credit advice.