When planning events sometimes you are in a large room. What if you need to have the space multi-purpose? How do you handle the different formalities of an event without accordion walls or portable room dividers? The best way is with a DIY draping room divider kit from ShipOur.Wedding®.
nationwide pipe & drape rentals help you easily divide rooms 🇺🇸
This kit is easy to setup and offers flexibility for your room layout. So if you need a temporary wall with fabric, this will close off the space and allow you to segment your room as you like. There are many other styles of wall draping for parties available. The pipe and drape rental is available nationwide or rent to divide rooms. Let's cover the basics and go over why you might need to make a wall of draping to separate your room.
Average Read Time: 5 minutes 30 seconds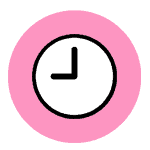 1.  Not every venue has sliding walls available. Airwalls are installed permanently, cost money and take time to move around. The reasons people love to use draping to divide a room temporarily is because it is very efficient. All you need are the linear dimensions of your space and you can rent your draping online. It also arrives (2) days before your event date and setups very quickly. Did we mention is cost effective?
2.  Pipe and drape partitions look amazing with color. You can choose any color fabric to partition to your space. The fabric gives a very clean look that allows you to add in lighting and compliment your event decorations. So another idea is to change the color of your fabric by using light rentals for weddings. Some of our privacy wall kits allow for (2) tone color selections. This way you can choose a primary and secondary color with your pipe and drape room divider.
3.  Draping kits divide rooms & make your space smaller. This might be a consideration if your guest count is reduced last minute or you just have too big of a space. It can seem less intimate if your space is too large. To make your guests feel more comfortable you may want to reduce the size by using draping to section off a portion of your room. This is also great for micro weddings.
4.  You just want to hide an undesirable part of your venue. This can be due to a remodel, the look of your space or just an area you don't want seen. The drapery once up will raise to a height of 10 feet tall. Anything behind it will be out of sight and out of mind. Another bonus of this space is that you can hide things in your room behind your newly formed wall partition.
5.  Instead of Buying Draping You Can Rent. Purchasing pipe and drape can be expensive. If you are looking for a temporary solution then it might make more sense to rent instead of paying full price to own. This way you can cover your wall for a fraction of the price. This will also save you money because instead of renting from a local vendor you can do it yourself and save on the labor cost for setup and take down. Also all ShipOur.Wedding® rentals come with a 5-day rental.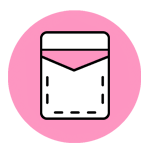 You need a fabric that has a nice look to it for a high end finish. ShipOur.Wedding® provides wrinkle resistant curtains that are available in a variety of colors. When doubled over the crossbar it is not transparent. This way anything behind the fabric is hidden from sight. We recommend turning off any wall sconces or light sources directly on the other side of the draping so it does not shine through. In addition the fabric is flame resistant and should be kept away from any heat sources.
There are many color choices available. Feel free to view handful of available colors in the product thumbnails below. The below icons will show you the available colors, must be added to an already existing drapery order.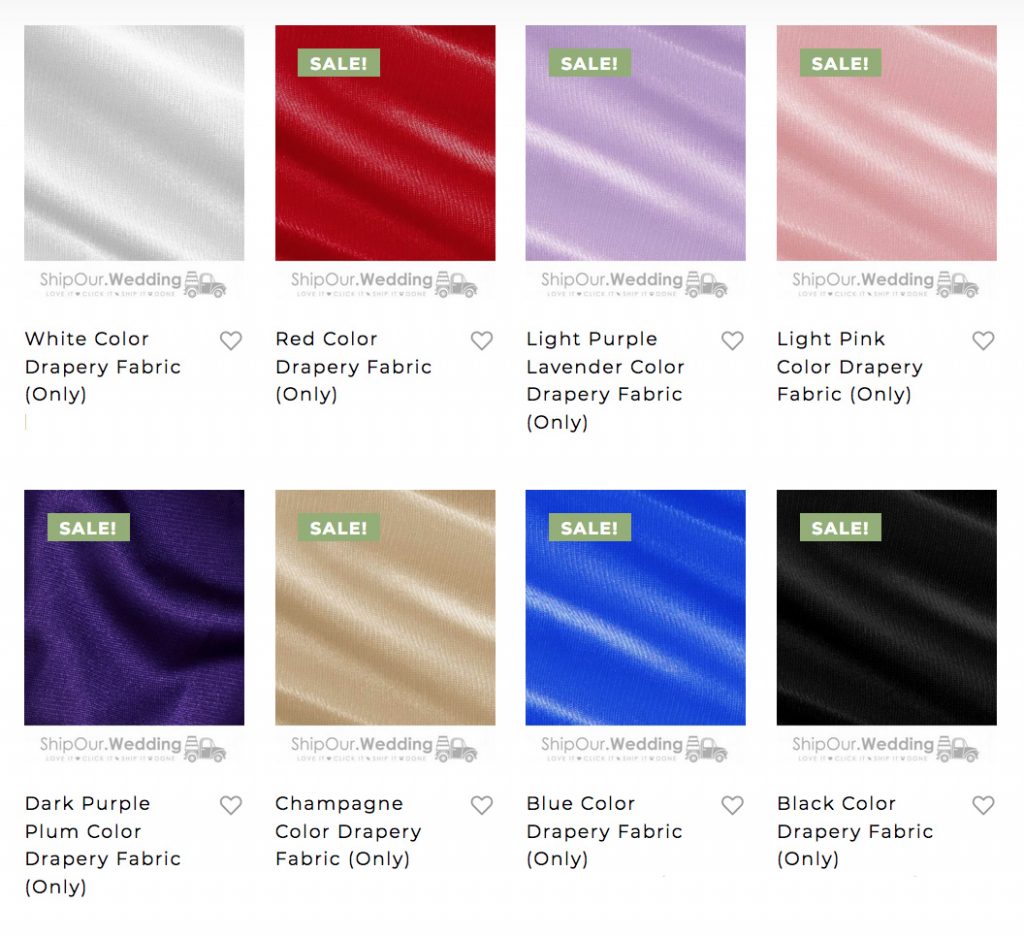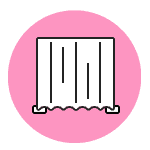 It is very simple to setup a wall of draping using do it yourself rentals. Each 10 foot section of wall draping will take roughly 5 minutes to assemble. All you need to do is set it, drape it and raise it.
You will repeat these steps for each 10 foot section. If you have an uneven amount of draping (let's say 72 feet). Then round up to the next 10 (which is 80 feet). You can always adjust your draping down to fit your space.
Instructions on How to Setup Fabric Room Dividing Kit
1. First measure the amount of draping you need to reserve
2. Once your rentals arrive, assemble your crossbars and lay out
3. Assemble your base plates and lay at each crossbar intersection
4. Place uprights into your base plates
5. Slide crossbars into the top slot of your uprights
6. Hang (4) pieces of draping on each crossbar
7. Pleat all fabric across the crossbar
8. Raise uprights to the desired height
9. Finalize the bottom fabric for your temporary wall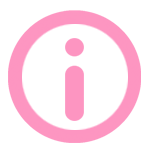 So you now have a wall of fabric to partition a room. How else can you use this pipe and drape kit? Let's cover a couple of great ways that others have used this draping during their event.
1.  Create a Photo Backdrop
You may want to have the drapes for a temporary wall in one space. However, consider the 2nd side of the wall as used for the next portion of your event. You may place your head table against this wall. You already have the pipe and drape backdrop up so you can set a table with your hand picked bridal party in front of this. Also you may want to decorate this area a little more with either single valance drapes or double valance drapery (both do it yourself products listed below).
2.  Flip a Room
Use the draping to have half the room staged with equipment and tables. Once you are done in a portion of the room and guests leave, you can then take down the draping room divider kit and flip the room. This can involve moving tables for your wedding seating chart, repositioning a stage or creating an area for your vendor meals. Once the flip is done then guests can come back into the room and it is ready for the next portion of the event.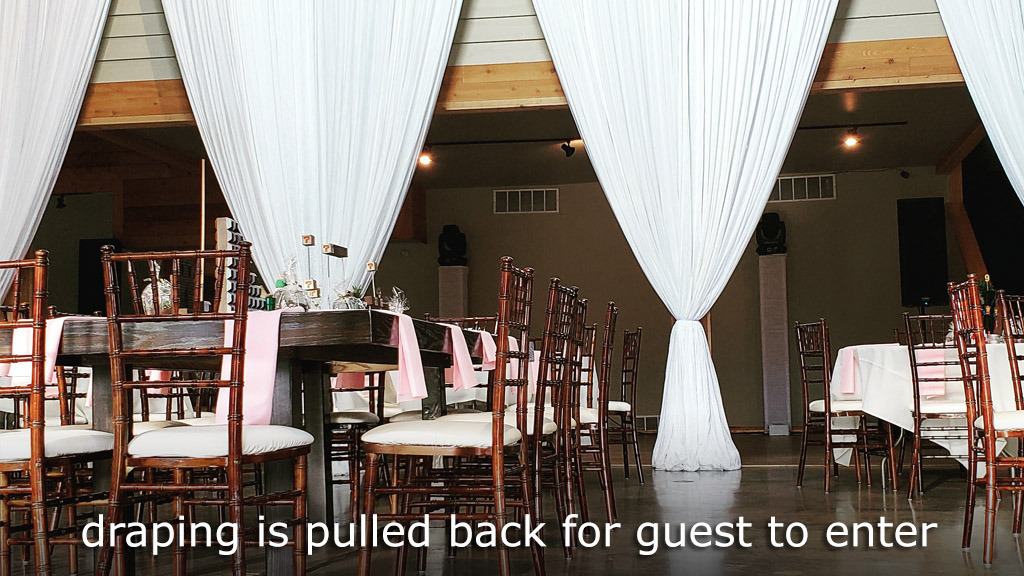 3.  Pull Back the Drapes
If you are planning on having the drapes up for the entire time. Then you may consider giving guests access to the space behind the fabric at a certain time. For example, let's say you want to have a dessert area after dinner. Then 10 minutes before desserts are ready, start pulling back all the fabric and give guests a way to enter the once hidden space. Straight swagged draping is a nice touch since guests are not expecting it and this also gives them a place to explore which is something your wedding guests will love!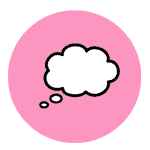 do you have any questions about using draping as a room divider, ask us in the comments below
If you need help sectioning off your event space then our draping will do a great job acting as a room divider. Clients all across the country have rented our fabric because it is beautiful, simple and affordable. There are many reasons why you might rent a draping kit as a room divider. The fabric can also double as doorway draping, a backdrop and even for repurposing an event space.
You have choices with styles and can even incorporate colored uplighting to match with your wedding theme. We hope you found our article helpful on helping you quickly create a privacy wall affordably. If you need help with your upcoming event then feel free to click on any of our links above for more information. Our team would love to help you create a functional space with our do it yourself room dividing draping kit.
XO Team Ship
Let's Plan Your DIY Event Under Budget