The answer
is simple…
EVERYTHING!
Some draping companies may charge more than you budgeted to set up a sweetheart table backdrop. Our pipe and drape kits are affordable, set up easy, & make you look good doing it.
Just because it is DIY doesn't mean it has to look cheap. Welcome to the world of do-it-yourself wedding décor rentals. Ship Our Wedding® has gorgeous wedding backdrop rentals & temporary wall kits available online.
these are the best DIY kits to save money on wedding draping
Rentals should be priced affordably which can be 10-20% of the rental equipment purchase price. Save money instantly by setting it up yourself. If you want to plan a wedding under $10,000 then doing it yourself is the way to go.
How to drape a wall with fabric

?
Plan ahead

: Before renting your pipe and drape kit, make sure to measure the space where you plan to use it and determine what size and configuration will work best.

Get the right height

: Make sure to set up the vertical poles to the correct height for your space. This will ensure that the draping will hang correctly and create a seamless look.

Experiment with draping

: Pipe & drape kits come with a variety of draping options. Experiment with different draping styles, such as swags or draping the fabric from the top of the poles for a more dramatic look.

Lighting is key

: DIY uplighting can make a huge difference in how your pipe and drape backdrop looks. Use uplights to highlight the draping, or add fairy lights to create a romantic atmosphere.

Add flowers or garlands

: You can rent wedding flowers & add them to your pipe and drape a backdrop to add color and texture. This will make it look more elegant and polished.

Use different colors

: You can use different colors of draping to create a unique and eye-catching backdrop. You can use one color for the background and another color for the swag or draping on top.

Be creative

: Be creative with your pipe and drape setup. You can use them for more than just a backdrop. For example, you can use them to create a photo booth or a cozy lounge area.

Create a focal point

: Use your pipe and drape backdrop to create a focal point for your reception. This will draw the eye and give your guests a focal point to focus on.

Use different sizes

: If your space is large enough, you can use different sizes of pipe and drape to create a layered look. This will add depth and interest to your backdrop.

Have fun

: Have fun with your pipe and drape kit! Remember that it's your special day and you want it to be perfect. Don't be afraid to experiment and try different things to get the look you want.
We ship you everything you need (2) days before your event. Enjoy a 5-day rental and ship it back 2 days after your party. Our kits are beautiful, simple & affordable. Scan our QR code technology on your phone for fast access to video tutorials.
💬 Want to find out what fabric is used for wedding draping??? Read everything below to get scoop on pricing & what to expect.
Average Read Time: 9 minutes 15 seconds
Amazing Drapery Ideas for Weddings + Parties
Drapes are not like window drapes. These curtains instead are used on drapery equipment. To create a wall of drapery first lay down (2) base plates, insert (2) uprights, connect (1) adjustable crossbar, hang the drapery swag, pleat it going across, then raise your pipe & drape backdrop.
It is that easy to set up our do-it-yourself kits! We suggest setting up outside drapery packages under a tent. Wind & drapery don't get along unless it is secured to something.
Drapery is long fabric linen used to cover

:
we cover how to use our drape kits below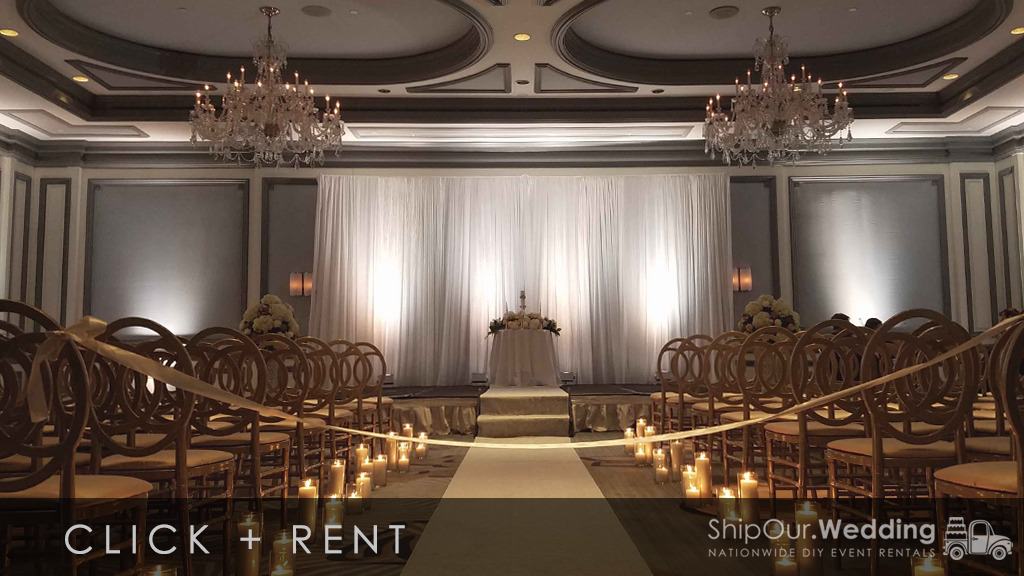 This is great for a repurposed room that is separated for the ceremony and reception. What we love about straight drapery is that it is our most simple form of draping. Wedding draping prices are cheap and look amazing… this is why it is so commonly used at events.
DIY Wall draping usually involves a section, one wall, or covering your entire ballroom. The fabric we rent goes 10 feet tall. It is charged per foot and we rent it out in 10-foot sections.
How to Setup DIY Draping for Wedding Receptions
1. Insert your baseplates 10ft apart
2. Slide uprights over the baseplate ferrule
3. Connect a crossbar between every upright
4. Hang (3-4) fabric pieces over every crossbar
5. Pleat fabric & raise uprights to 10ft tall
6. Finalize the bottom of all fabric
This is our most cost-effective form of draping because it is a blank canvas of fabric. It also can be used as wall drapery and pulled back to be swagged open on a window or doorway.
pull back fabric for doorway openings by using pipe cleaners
Straight wall draping looks great in photos (especially for your ceremony or head table). You can also hang signage from this backdrop if you need more wall draping ideas. White is the most popular color but you can choose other color styles.
If you decide to change your fabric color then there is a slight price increase depending on the color you choose. Keep in mind that white wall draping looks best when used with uplighting kits. Learn more about best uplighting colors.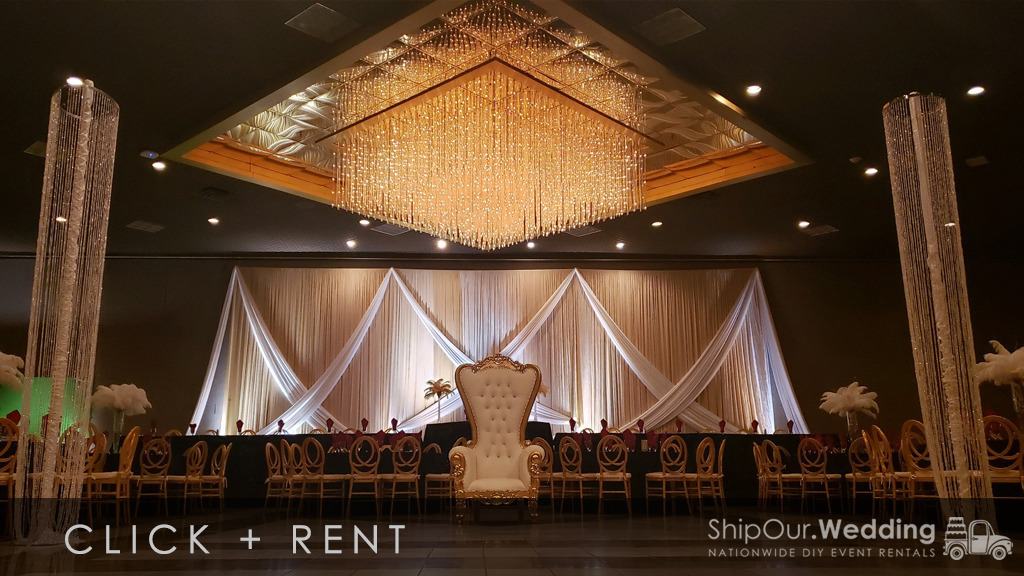 The price isn't much different than our straight drapery. The only difference is an extra piece of fabric per 10-foot section for the single valance kit.
This takes a couple of extra minutes to set up. The main reason why is because you have to pull your single valance to the side after attaching it.
Because of this, our side valance kits are used as DIY wedding backdrops instead of draping all the walls in a room. So you will reserve a package that is usually from 10 feet long to 40 feet long.
Pro Tip: The best way to determine how much draping you need to cover your head table is to take your # of guests in the bridal party, multiple it by 2, and then round up to the nearest 10.
✔️ For example, a 14-person bridal party would be approximately 28′ long, this requires a 30′ backdrop since we round up (photo example).
Want to Save Money?
Talk to a party pro now!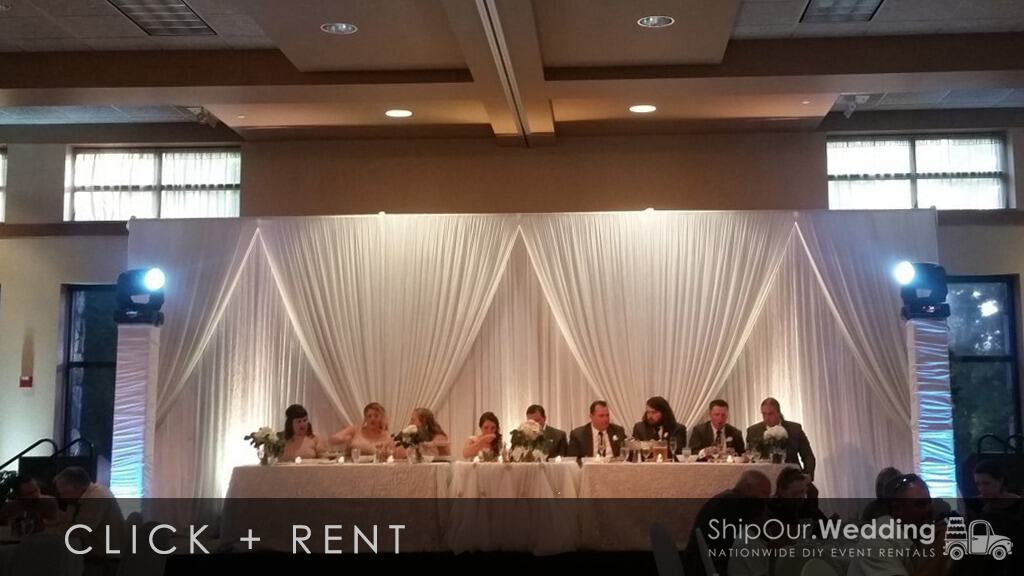 The only difference is that this has an extra layer in the front. This allows it to be pulled back on the front layer. This idea is great since it adds an element of depth to your wedding head table décor.
Similar to the single valance, our double valance draping is primarily used for the head table at weddings. So how can you accent this backdrop to make it look good in your photos?
You can also add some bling to your wedding draping decorations by using a flexible silver sequin band to dress up your pulled-back fabric. It is the small details that help bring your look together.
Hanging chandeliers create visual eye candy that gives the right amount of lighting to make photos look amazing. The included video above shows how to hang a chandelier on wedding draping.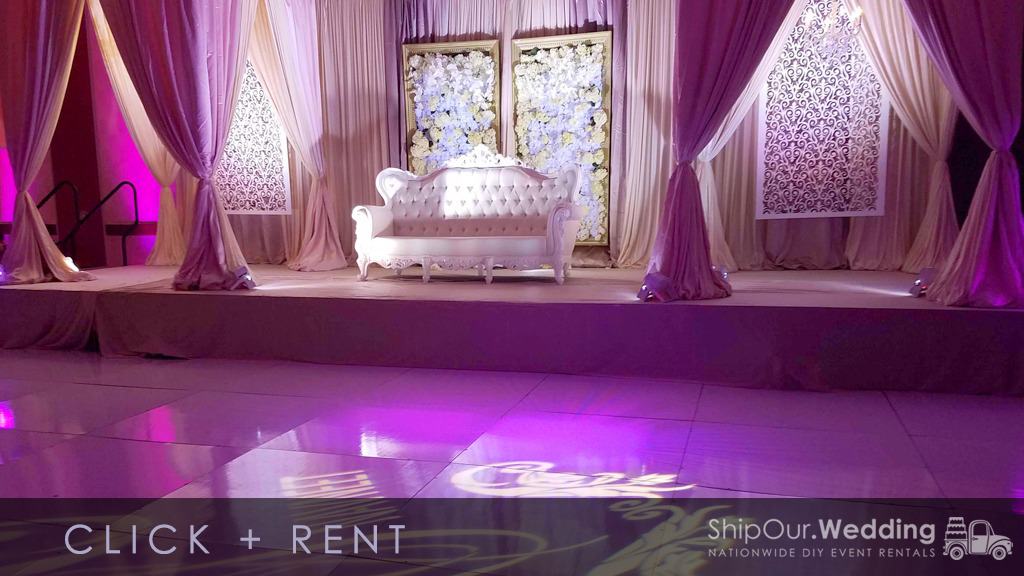 Instead of trying to find a wedding chuppah rental, you can do it yourself. You won't need to know how to make a huppah because we will ship you all the equipment.
Our DIY chuppah looks like a cute little cabana. This is multi-use meaning it can be used for formal wedding ceremonies and modern lounge areas.
How to Build a Chuppah Fast
1. Set up your DIY chuppah frame
2. Hang the fabric
3. Pleat & raise your draping
4. Pull back all openings
This looks amazing and costs a fraction of the price you might find elsewhere. If your fabric is white then it will look lovely with wireless uplighting to match your wedding. Just set your color and aim from the base up your fabric.
💡 Use (4) uplights to make a chuppah the focal point of your event or party. Rent chuppahs for ceremonies, stages, entrances & lounges.
Any drapery that you place by your entrance will add to the look. What we love about draping a doorway is the expectation it sets for your guests. They have a heightened standard for what to expect.
we cover (3) ideas on how to drape a doorway
Draped Doorway: This is a 10-foot straight section that is swagged back to the left and the right. This is straight drapery but swagged back to bring attention to a certain doorway.
Infinity Entrance: Creates a draped doorway but it has (3) sections placed in front of each other. This illusion almost makes a tunnel as it gives direction to your guests for the entrance.
Infinity entrances make a bold statement. We recommended using multiple sets of pedestals and flowers for this grand entranceway.
Wedding Tunnel Entrance: A tunnel is a draped doorway with a covered ceiling. These work well in venues with tall ceilings. We don't recommend tunnels in venues with lower ceilings. The reason why is that it may feel too claustrophobic if you can't go up to 10 feet tall.
Tunnels can have lighting, chandeliers, and rugs. You don't have to keep them straight. Tunnels can be placed inside hallways to help hide an area a guest might enter.
Sometimes this draping can be hard to install. We recommend experienced event professionals do ceiling drapes for wedding receptions & parties. We cover this as venues sometimes request vendors to list their facility as an additional insured.
You may not be able to hang drapery if

…
damage to the venue is unavoidable

mounted equipment might fail

the setup is way too technical

the setup takes too long to setup

the ceiling is too high or inaccessible

there are no places to safely mount

you are unable to ensure guest safety

the venue requires proof of insurance

the venue won't allow, they want a pro

you can't do it, you're afraid of heights
You do not want to damage the venue or worse have any mounted equipment fail and fall at your event. More than likely anytime you hang drapes your banquet hall will require proof of insurance.
our DIY ceiling kits are perfect for common ceiling scenarios
Circular Ceiling Drapes: Now we got the pleasantries out of the way, let's cover a few ways to do DIY ceiling draping.
Our most popular DIY ceiling draping is a star or bicycle spoke style of draping (1 mounting point from the center and comes out). All fabric will be bundled up and extended on the ground (like bicycle spokes).
Double mount the center portion above a ceiling tile to the steel beam holding up the venue's roof/ceiling. This is done using carabiners & safety cables. All the legs will come out and have some fullness.
Have the fabric attached with pipe cleaners to the drop ceiling grid. Even attach the fabric to drapery uprights with at least 75lbs of weight on each base plate. Weights help reduce the chance of uprights accidentally knocking over.
Horizontal Ceiling Drapes: A more elaborate idea for fabric ceiling covering ideas are horizontal swags. This requires an aircraft cable running the long way between 2 walls. Use a turnbuckle to tighten the cable. Also, the cable should be supported every 10 feet, a cable going up to the ceiling.
This prevents your main line from sagging from drapery weight. You will run (4) cables like this and it makes a channel for your draping to sit on. The very edges of the fabric will hide behind wall draping, clip to the ceiling or hide behind a wall of fabric.
Our last pipe & drape kit has (3) rentals that are circular in design. Round draping makes a statement. The reason why is because it is not as common for weddings.
Not a lot of companies stock this style. Because the awkward shape of the crossbars affects shipping, the draping has a substantially higher rental price.
Let's cover (3) popular circular draping ideas
Bishop Column: These look like champagne wine glasses. They billow from the sides and create interest in a room. We call this breaking up your space.
Use them near a head table, in a row, or on the four corners of your dance floor. These must be set on a level surface and can not be raised too high. Rent wireless uplights and work it inside to make these glow!
Round Canopy Drapery: A step above a DIY chuppa is our round design. This draped structure looks amazing when set up on a stage. You can use this for both your ceremony and reception.
This works well if you are in the same room for both events. Our DIY rentals offer great ways to decorate with thrift shop themes that include silk floral arrangements.
We do not recommend setting this up outside, only use it indoors
Pillar Draping: Do you have some beams that you want to be covered? Well, we can't remove them but I am confident to say we can hide them with draping. Now you can hide columns at weddings and events with our pole cover kit.
All you do is set it, drape it, and raise it. Choose your color and place wireless uplighting at the bottom to light up your fabric. You know what they say out of sight out of mind!
There are many packages available for backdrop curtains, party drapes & wedding ceremony drapery. You can either hire one of the many event rental companies or opt to do it yourself and save more.
is there a draping style that you love, tell us in the comments below
As you can see above we have given you all info you need to know exactly how much it costs to drape a wedding. To see our lowest pricing for each draping kit, click any of the links above.
Now you know where to find cheap drape rentals! If you ever need more pipe and drape ideas please let us know. Our team is available via chat and phone to discuss your do-it-yourself event.
Founders Robert + Nicole Reno
With a combined (4) decades in the industry; we've trained hundreds, booked thousands, & partied with millions. Our first-hand experience allows us to empower others to succeed & be great… (read full bio)
XO Team Ship
Founders Robert + Nicole Reno
With a combined (4) decades in the industry; we've trained hundreds, booked thousands, & partied with millions. Our first-hand experience allows us to empower others to succeed & be great… (read full bio)
XO Team Ship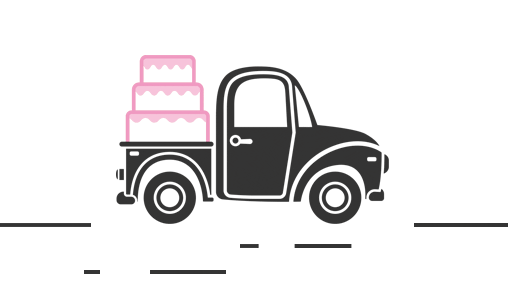 The content of this website is intended for informational purposes only & does not constitute legal, financial, or credit advice.