Well, probably not that intense for your event…. however, you can shine lights at your wedding with an indoor projector. The easiest way to describe custom word lighting is a gobo disc that projects light to show names on dance floors & walls.
this is the best guide on the internet for wedding monogram lights
Why you might rent a monogram light for your wedding:
Personalization

: A monogram light can be customized with the couple's initials or names, making it a unique and personal touch to the wedding reception.

Ambiance

: Monogram lights can add a romantic and elegant ambiance to the reception space. They can be used to highlight the dance floor or other focal points in the room.

Branding

: Monogram lights can be used as a branding opportunity. Some couples choose to use their wedding hashtag as the monogram, making it a fun and creative way to connect their wedding to social media.

Serving as a focal point

: A monogram light can serve as a focal point, especially if it's placed behind the head table or in a prominent location, such as the dance floor, it can be a great backdrop for pictures and videos.

Cost-effective

: Renting a monogram light can be more cost-effective than purchasing one. This option allows you to have the desired lighting effect without having to make a significant investment.

Professional look

: Monogram lights are usually operated by a professional who can adjust the brightness, color, and movement of the light to match the theme and atmosphere of the wedding reception.

Variety

: Many rental companies offer different styles and sizes of monogram lights, so you can choose one that best fits your reception space and theme.
There are many types of monogram projectors available. Gobo monogram lighting first starts with a design. We cover things to keep in mind to help with your setup on walls and dance floors. Continue reading & learn everything you need to know!
Average Read Time: 9 minutes 30 seconds
(10) Wedding Monogram Lighting Tips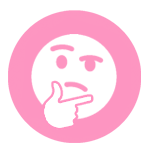 At this point, you are probably wondering, 'what's a monogram'? A monogram is a digital logo created to help brand your event. It is a combination of names, initials, & dates as a unique design.
This branded design is then used on printed physical objects to make your wedding feel more cohesive. There are many monogram types. You can keep it simple or more ornate.
the type of monogram gobo you design has pros & cons
What we love about using a monogram in lighting is that your name is a visible design in your photos. Renting a gobo projector is just one more way to help tell your story during your dances & speeches. Learn more about our digital monogram creation service.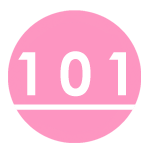 Now let's go over monogram design examples. In the photo below we have (27) FREE wedding monogram templates. Our most popular designs for monogram projectors are 7, 20, & 24.
It is very important to make sure your font is legible for your gobo projector. The template should not have everything in cursive.
Cursive can make it too hard to read when aimed at the floor or wall. This is why we recommend using a simple font along with a cursive font.
less is more with monogram lights, we suggest using dates only on printed objects
You do not want too much wording in your gobo design. We recommend something simple like having wedding monogram initials only for a projector. Avoid using dates in lights. Instead, use your wedding date on a photo booth strip.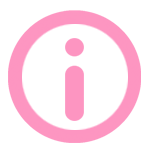 So you know about design options & how to reduce clutter. If you are renting a light for your wedding, you need to think about the design orientation for your monogram projector. This is especially true when you are aiming it on a wall & not your dance floor.
think of your walls when choosing a billboard or vertical design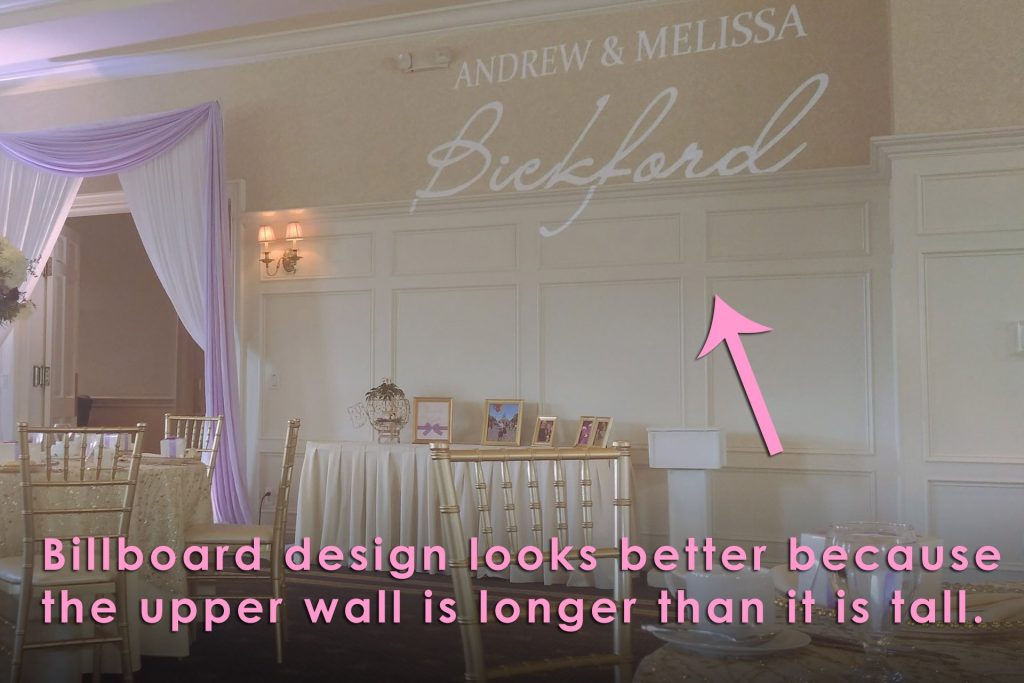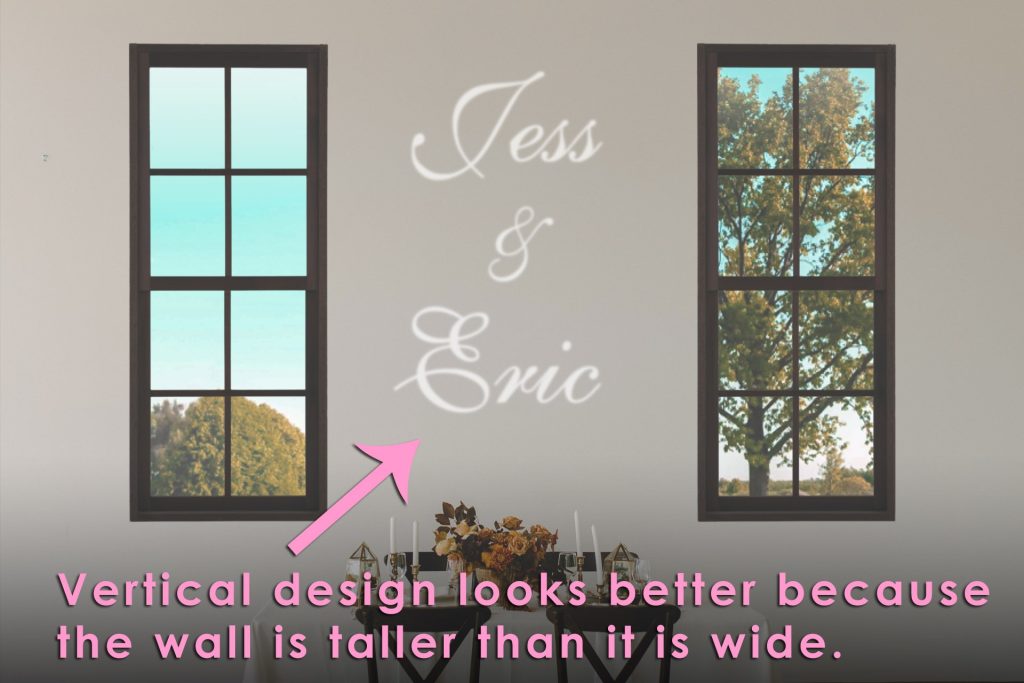 A billboard design is longer from left to right. This gobo works better in banquet rooms with low ceilings. A custom wedding monogram that is more vertical, looks better on tall walls with windows (because they have narrow sections of the wall in between).
There is a little bit of wiggle room with the zoom and focus on the projector light. To help determine the size of your visible monogram on a wall, use our throw distance calculator below.
The above chart gives the visible monogram size depending on the distance it is set up from the wall. Measure the distance of the wall you can aim at. Use this chart to help determine if your gobo should have a billboard or vertical design.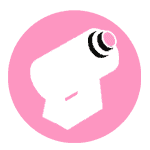 It's time to answer the question of how a monogram works. Many event vendors offer monogram lights for weddings to aim at floors and walls. This includes the gobo disc that makes the image.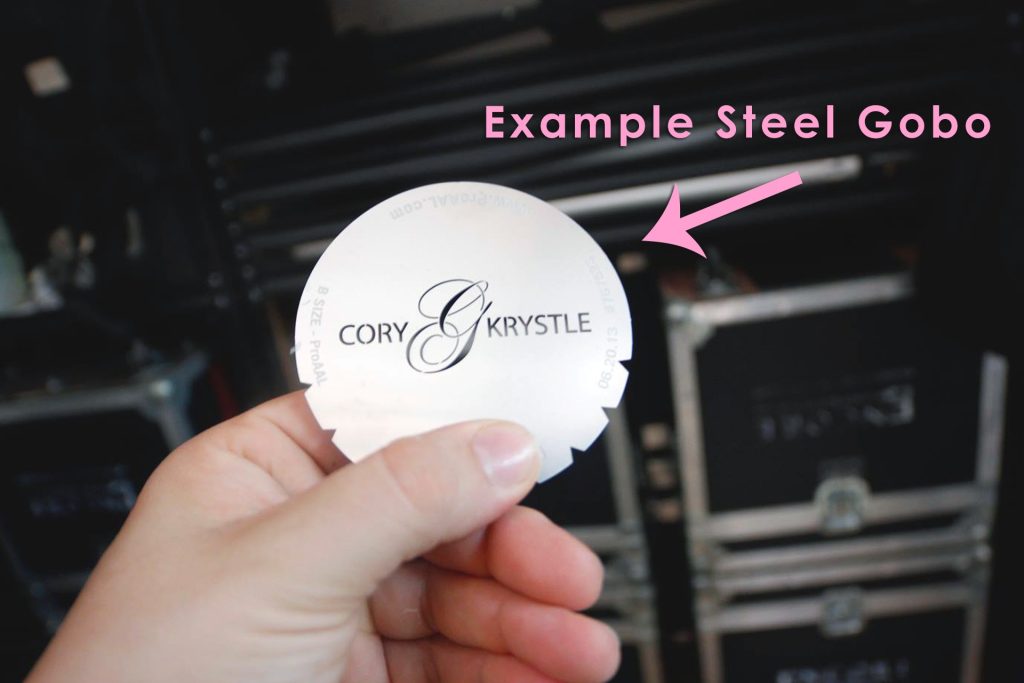 You can rent these gobo projectors from wedding DJs, lighting companies, florists, & event venues. Vendors don't usually offer a DIY option & will charge you for setting the projector up.
There are (2) different kinds of monogram gobos for lighting. This includes printed gobos & steel gobos. Ship Our Wedding® provides printed transparencies for custom name gobos and steel gobos for break-up patterns in stock.
Our same LED monogram projector is used for steel gobos. It does not get hot and has a cheap affordable price. We have over (80) break-up patterns in stock to help match the theme of your party.
we place a small disc into the projector light, you adjust the gobo focus with knobs
Some other companies project names onto walls & floors using old-school source 4 or ellipsoidal lights. This creates a bright light with a metal gobo disc to show the logo image. These lights are not LED so they require a lot more power.
Cons for steel gobo lighting:
need up to 750 watts of power

gets hot up to 410 degrees

the projector can burn hands

easily blow circuits

metal gobo has a design cost

metal gobos may have sharp edges

up to a 1-week turnaround
These specialty projector lights need a metal gobo designed for the event. That service is outsourced to large companies like Rosco, Apollo, or Gam.
They use a steel laser cutter to make the metal disc. They need several days to make the gobo disc. This can delay turnaround times for last-minute requests.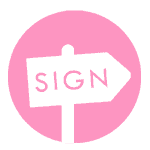 So you have the monogram designed for your projector light now what? What other things can you do with your monogram than aiming your gobo on floors and walls?
Use name gobo monogram images everywhere throughout your event. There are so many fun & creative wedding ideas to tie your theme together.
Ideas & uses for monogram designs:
wedding invitations

save the dates

getting ready attire

wedding program

signature drink menu

printed signage

table numbers

photo booth footer

foam glow sticks

wedding favors
There are so many places to use the monogram at your wedding. It doesn't have to be the same design. For example, you might use the date below your monogram on your invites and just a simple monogram on a wedding program.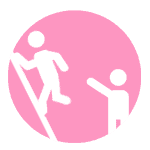 A wedding monogram light is either set up on a table with brackets, set up on a stand, or hung with a clamp. The main goal is to get your monogram elevated so that the gobo light cannot be interrupted by the shadow of a guest walking in front.
If you are using an LED wedding light projector for a wall, you might not be concerned about setting it up on a stand. If it is out of the way of getting knocked over and you are okay with elevation then you can aim it from a table.
Easily set up DIY monogram on walls:
power your projector light

aim the light at a wall

adjust the gobo focus knob
However, most of the time you will want to raise the height of your monogram light so the design is more visible during your event. We recommend using a stand with a plunger attachment. This takes minutes to set up and is a low-priced way to guarantee better results.
If your space has a balcony railing then you might consider mounting the monogram lighting for the wedding up higher. This is the best place for aiming at the floor. You will need the right style clamp. Nine times out of ten a 2-inch mega clamp will work.
important whenever mounting gobo lighting above guests' heads use a safety cable
What if you need height for your monogram & there is no balcony? We cover the pros & cons of mounting a gobo projector to a ceiling with a ladder next.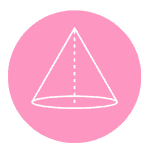 You might think the best place for logo projection is on the floor. There are other places like your walls and even ceilings to aim a monogram. First, let's cover the drawbacks of aiming your monogram on the floor.
Cons to a dance floor monogram:
design warps from the angle

hard to photograph floors

disappears with guest dancing

wood dance floors are dark
We cover later in the article why dark dance floors are not ideal. We are not saying that aiming light on your dance floor won't look good. The way you create gorgeous photos of monograms on your dance floor is by having the light mounted correctly.
If you mount your light and notice it seems crooked you can fix the pattern alignment. All it takes is 1 minute to adjust the disc in the gobo holder. Just be careful you do not smudge the disc, lose the spring, or misplace the black washer.
This is easy with 2 story tall venues that have mezzanines. The light is high enough up that the angle doesn't warp the design (meaning it is still easy to read on the floor). You can aim the gobo light with a stand & attachment from above to get the optimal angle.
the goal is to have the monogram projector directly over your dance floor
If a balcony is out of the question then you are stuck with mounting the light from the ceiling. If your venue has an airwall this can be done with special clamps. If your venue has an open ceiling with rafters you can achieve this look with a mega clamp and safety cable.
The issue with mounting a gobo projector to the ceiling is it is time-consuming. Getting on a ladder is a common wedding vendor pet peeve. You need a tall enough ladder to access the height and get power to the light. Just running & tucking extension cords in the ceiling can take over 1 hour.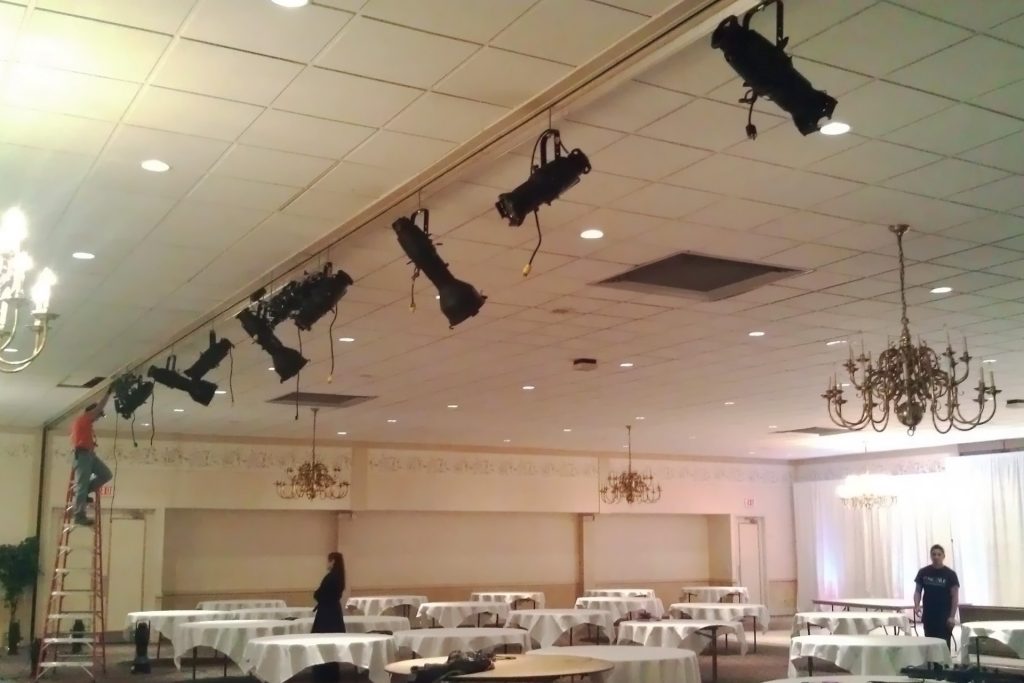 This is why we recommend aiming the monogram design onto a large open wall near your head table. The projected gobo will be viewable from anywhere in the room and requires minimal setup time. Just set up on a stand and run power from a nearby wall outlet.
Lastly, what if you are having a backyard tent wedding without walls or a dance floor? It is easiest to set up your monogram projector on a stand & aim it at the canopy ceiling. This is a nice white surface that is perfect to aim the name design or company logo.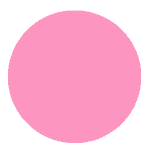 Not every room is designed the same. Different venues have different materials for walls & floors. First, let's start with your best-case venue style for monogram lighting.
Plain Walls: This venue has a room without any designs. The lack of wallpaper makes it easier to see a monogram in lights. Also, you want neutral-colored walls. Dark walls tend to absorb the brightness and reduce the effect of monogram lighting.
Draped Walls: Wedding draping kits creates pleats that are ridges on the surface of the fabric. You want a flat surface to aim gobo lighting. If you look at the monogram from the side it will look rippled and hard to read. Consider this projector limitation for backdrops & entire room draping.
Wood & Brick Walls: Barns and industrial buildings have a lot of character. However, they are also known for having dark attributes. Wood, brick, and stone may be too dark for using monogram lighting. We recommend using high-powered lights and not LED-based lights for aiming names onto these surfaces.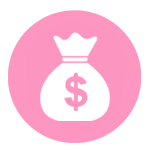 The cost comes down to how the monogram is made and if there is labor involved. Most vendors have to mark up the price of this projector rental because the gobo is made & designed by someone else.
Prices to rent monogram projectors from a vendor can start at $250. If your setup requires the gobo light to hang from a ceiling over your dance floor the cost can increase upwards of $500 if your setup requires a ladder.
The main reason gobo lighting costs more for a ceiling install is the labor to hang the lights. It takes time to use a ladder. Also, your lighting vendor will have to run power cables across the ceiling and down to a power outlet.
expensive projector monogram designs become cheap once you go DIY
No need to search for a monogram place near me. Ship Our Wedding® offers do-it-yourself monograms with online shipping. Since this is a complete rental kit the gobo design will already be pre-installed in the projector light.
What is great about going DIY is that you won't have to pay the labor for a lighting company to set up your gobo design. No need to use a ladder, just rent a stand with a plunger. For the best results aim this light at a wall and not the floor.
Just place your gobo projector order online. We ship it to you in a convenient case & it sets up in less than 2 minutes. Get the best pricing, no experience is needed to use this lighting rental.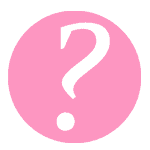 That is everything you need to know about personalized lights for a wedding. Monograms are not just used for lighting design, they can help tie together your theme.
The design can impact where you can set up the projector light. Out of all the monogram styles available, we recommend a billboard design over a vertical design because your gobo will fit in more places.
tell us will you have a monogram light setup for your wedding
Whether you are setting up your monogram in a wedding venue or in a tent with draping, we want you to know the best place to aim it. Gobos fit better on walls than floors. The surface material can affect how good your monogram turns out. Lighter plain surfaces work best.
💬 If you need help renting your name in lights, then please send us a chat. Reach out if you need any more wedding monogram ideas!
XO Team Ship
Let's Plan Your DIY Wedding Under Budget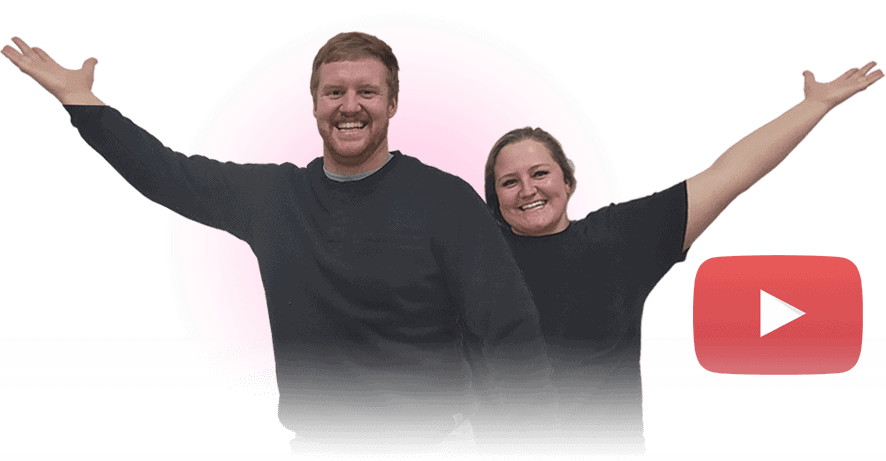 We saved $15,000 going with Ship Our Wedding
Brad & Annika Schock, Cario Nebraska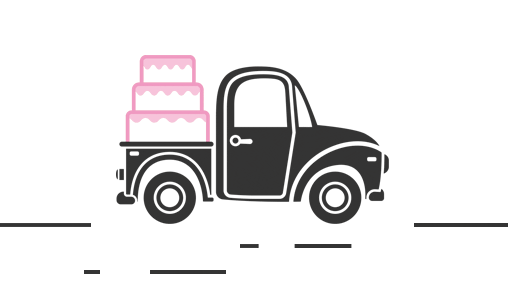 The content of this website is intended for informational purposes only & does not constitute legal, financial, or credit advice.